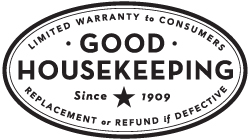 Consumers have relied on the assurances of the Good Housekeeping Seal since 1900. Behind the prestige of the Seal is a staff of highly trained experts who continually review products and advertisements in Good Housekeeping magazine. The Good Housekeeping Institute has great pride in the integrity of its Seal, and the companies that carry it fully understand the weight implied by its designation.
Each year since 1964, Wheaton World Wide Moving has earned the Good Housekeeping Seal for interstate moving – and continues to be the only moving company to receive that honor. With customer satisfaction ratings perpetually at 95 percent or higher, the industry's most qualified drivers, and Wheaton's state-of-the-art tracking and communication systems, you can rest assured Wheaton will uphold the Seal's standards for service. Trust your belongings and memories to this Good Housekeeping Seal holder. Trust Wheaton to move your life.
If Good Housekeeping trusts Wheaton enough to give us the Good Housekeeping Seal, you know you can trust us to move your life. Visit the Wheaton World Wide Moving website to create your own free online estimate, or contact us today at 1.800.248.7962 to speak to a Wheaton representative about your moving needs.