Good Housekeeping and the Good Housekeeping Seal have been assisting customers and helping to inform their decisions on a gamut of products for over 100 years.  Some of these products are ones that you would expect a company like Good Housekeeping to endorse: appliances, beauty products, food, beverages, and household goods. But would you expect Good Housekeeping to endorse an interstate moving company?
Wheaton + Good Housekeeping Seal
Good Housekeeping doesn't endorse just any van line. In fact, Wheaton World Wide Moving is the only interstate mover to have that Good Housekeeping Seal of approval which we've received every year since 1964.  So what does that mean for you as the customer?
To name just a few of our attributes, it means that when it comes to interstate moves:
Our customer service ratings are always at a 95 percent or higher
We have the industry's most qualified drivers
We have top notch communication systems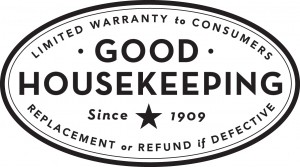 Good Housekeeping Today
Despite Good Housekeeping's long-standing history, this isn't a company that is only meant for past generations.  Good Housekeeping and their research labs continue to strenuously test products to ensure that the customer is getting the highest quality possible.
CBS Sunday News recently ran a story on the importance of earning a Good Housekeeping Seal and just how much work goes into receiving it.  Check out this video to get a peek into Good Housekeeping's famous laboratories and learn more about what makes this company as well as the companies that have Good Housekeeping Seals so special:
Moving?
If you're getting ready to move, make sure to visit the Wheaton World Wide Moving website to create your own free online estimate, or contact us today at 1-800-248-7962 to speak to a Wheaton representative about your moving needs.