The kitchen is the control center of the house and typically the most used, which makes it susceptible to clutter! Whether you are unpacking your kitchen or giving it a tune up, here are some helpful tips on doing so with help from the book "Clutter Rescue" by Good Housekeeping Institute.
The kitchen should be the last room you pack when preparing for a move and the first room you unpack after you move. Having the appliances in place and functioning will make the flow of unpacking day easier. If you or your family get hungry, you will have access to food and cooking supplies while unpacking!
Organizing the kitchen will probably take more than one day, so plan accordingly. Conquer one clutter zone at a time.
Store items in the kitchen near where they will be used. This will make it easier to access those appliances as well as remember where they go. Keep this in mind as you are organizing each clutter zone.
1.    Cabinets
Start by pulling everything out of the cabinets and clean the shelves. Take inventory on what you have in your cabinets and take action:
–    Throw away open boxes of food that are more than six months old
–    Donate canned goods you've had for more than nine months
–    Discard or donate glassware, dishes or flatware without mates
–    Get rid of equipment or appliances you never use
After taking inventory, put similar items together, i.e., cereals with grains, canned goods with other canned goods, and glassware with dishware. The goal is to make everything in your cabinets easy to see and reach. One way to do this is place all food labels facing forward to make it easy to find what you need. Store larger items, such as mixing bowls, small appliances and pots and pans in under cabinets. Consider using tiered shelf platforms, basic wire shelves with legs or turntables to achieve your organization goals.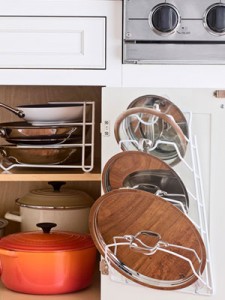 2.     Under sink space
Since the under sink area usually has odd dimensions, think of it as a puzzle. Make the space as efficient as possible by creating groupings for under the sink. Put household cleaners in one container, possibly a bucket. Do the same with poisonous household products and be sure to childproof these with a cabinet lock. You can add pullout stacking systems, stretchable shelves, towel bars to the under sink.
3.    Hanging storage
Much of what clutters cabinets and drawers can be hung from a ceiling or wall. This allows more flexibility to accommodate your height and reach. Look for unused wall space and hang cookware or utensils. It is best to avoid hanging items around the stove.  You can use rail systems, pot racks, hooks, hanging baskets and hanging glass racks to achieve this organization.
4.    Drawers
Because drawers are flat, pieces that should go in them are flat items, linens, napkins, flatware and cutlery.   This way it becomes clear to anyone in the kitchen where items go. Drawer inserts are available that could help maximize storage, including spice inserts, flatware caddies, expandable cutlery organizers, knife racks and expandable compartment organizers.
5.    Counter tops, Work Surfaces and Shelves
Separate the counters into stations, which will allow work surfaces to be confined and functional. Use storage containers as decorative pieces.
Cooking Station – Put items that are essential for cooking, such as cooking oil, utensils, lazy Susan, salt and pepper, near the stove. and etc…
Food Station – Group canisters holding sugar, flour and coffee in a centralized, accessible location. You can create several different groups in this station.
Appliance Station – Unless you use small appliances daily, these should not be on the countertop. If you use small appliances daily and leave them on the countertops, put them near outlets.
If you still need space, consider using stand-alone shelves or wall mounted shelves to store "overflow" that does not fit in a particular station.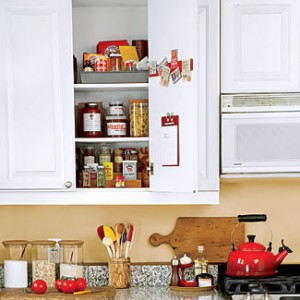 6.    Refrigerator and Freezer
Cleaning and organizing your refrigerator will need to done on weekly basis. This area is the easiest to become unorganized because of the constant flow of the food. Move everything out of the refrigerator/freezer and get rid of old/spoiled food, food that you haven't used in six months in the refrigerator, or nine months in the freezer. Clean the inside of each by taking out removable surfaces and wipe the rest with a cleaning solution.
Put everything back into assigned locations. For cheese and deli meats use the covered bins. Keep condiments together in the shelves on the door. Have a distinct area for leftovers so the family can easily access them and you can gage how old they are. Assign shelf space for different types of food and use labels so everyone knows what is what.
When putting new food or beverages in the refrigerator, rotate by putting the older items up front so they are consumed first.
7.    Pantry
Prevent clutter and waste in the pantry by organizing what goes where. The pantry should be used as a backup storage area and should be organized by level depending on how often you use items. The most used items should be placed at eye level and items rarely used put on higher shelves.  No perishable items should go in the pantry. Dry goods should go in the pantry and in airtight containers. Paper goods should be placed toward the top of the pantry because they won't get damaged if something spills. Most beverages can be stored in the pantry, which will free up space in your refrigerator. Cookbooks can be stored in the pantry.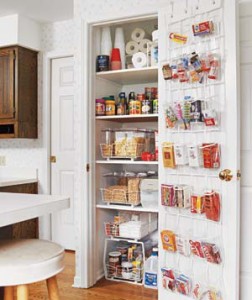 6. Kitchen Table
The kitchen table can have many uses, which can cause it to have a lot of clutter. "Center piecing" is a way to beat clutter by creating a central area. Keep the table covered with a simple tablecloth or lay out place mats to keep the table free of the clutter cause by homework, work and bills.
A Few Tips on Keeping It Organized:
Empty sink, closed doors – Make a habit of emptying the sink every night and closing the doors to your cabinets. These simple acts make cluttered areas stand out.
Have a bin near the kitchen in which to store things that do not need to be in the kitchen. At the end of the week, have the family go through it and put things away in the proper place.
Assign one day every week to remove leftovers in your refrigerator.
Visit the blog on Thursday as we will explore the organization of bedrooms and kids rooms.
References: "Clutter Rescue" from the Good Housekeeping Research Institute