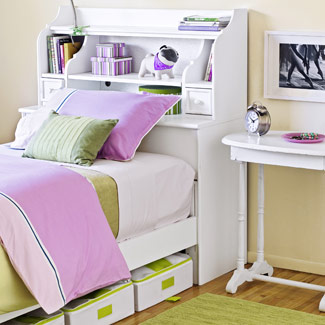 Relocating to a new home can be challenging for children. A child is more likely to embrace the idea of moving if they are involved in the process, especially when it comes to unpacking their room. Keeping the child engaged will not only teach them to organize and maintain their room, but will help them feel more at home.
Despite the child's age, there are basic principles that are fundamental to organizing a child's room. The more the process of organization is innovative, interesting and part of a daily routine, the more likely the child will be to make the effort to stay organized.
Make sure the storage that you pick is safe and adaptable. Divide the room up into zones and begin with the messiest area. At that point, invite the child to help organize in order for them to feel vested in the process. Some of the zones that we will go over may not apply to your child's room, so feel free to skip over these and apply what is relevant.
1.    Toy Storage
The first step in getting toys in order is to get rid of their old or broken ones. By listening to your children's input, you can figure out the little details of their personal preferences.  This is also a great opportunity to teach your children about the value of charity.
For infants, don't be afraid to donate toys that never get played with. You also can store these in the closet then reintroduce them later as they may develop interest in them. Put their favorite toys in a bag and move it to where the child plays throughout the day – playpen, changing table, stroller, etc.
Benches, boxes, chests, hampers, bin consoles and shelves provide the best type of storage for toys. Remember to keep the toys together by group and label with words or pictures (depending on the age) to help nourish the child's organizational skills.
2.    Work/Art Space
You can create this area with just a small desk or table, light and drawers for art supplies. This space's functionality will change as the child matures and can be turned into a homework/computer area. Recycled plastic containers with lids, such as plastic butter tubs, jars or drink bottles, are also great ways to organize art supplies.
A child's art area can result in a mess, so follow these rules to maintain a clean environment:
a.    Keep cleanup gear close – Have paper towels, moist towels and rags on hand for the accidents that need to be cleaned up quickly.
b.    Use appropriate supplies – Make sure the supplies are non-toxic and water-soluble.
c.    Contain creativity – Keep the art supplies in containers and explain they must be put back into the correct area when not in use.
3.    Bed/Play Area
The bed usually ends up as an extension of play or recreation area. The key is to provide enough storage and organizers to keep things tidy around the bed without letting those additions to become part of the problem.
A bedside table, just like an adult bedside table, should be easily accessible with not too much surface area to gather clutter.
The child's bed is traditionally a little smaller than an adult bed, so the storage underneath the bed will have to be a bit smaller. To overcome the challenge of bunk beds, consider putting a small shelf for books and toys, hang a lamp on the ceiling or wall or use a hanging basket as a nightstand for the top bunk.
If there is room, a small table for younger kids to play board games or a dressing table for older children may be ideal to add in the bed/play area.
4.    Clothes, Closets and Dressers
There are two key principles to a child's closet: accessibility and versatility.  First, the focus needs to be on easy access and intuitive locations. Secondly, the closet will have to change as the child changes.  Use organizers that will adapt to the child's age as they grow. A great way to organize is to use shelving and drawer units.
Here are some rules to follow when organizing clothes:
a.    Organize low to high – What children wear everyday should be within reach. Use the higher shelves and hard-to-reach areas for out of season items.
b.    Avoid hangers – Hangers are a hassle for kids, use pegs or fold and store on shelves instead.
c.    Spell it out – Pictures and labels can help teach the child to place where their clothes go.
d.    Laundry entertainment – To get kids in the habit of putting dirty clothes in a hamper, make a fun game or put a face on the hamper with a big hole for the mouth.
A dresser should once again be an area of overflow. The best type to buy is a three-drawer wooden dresser that can be used as a changing table then converted to a dresser for a toddler. Drawer dividers are always useful for smaller clothing items.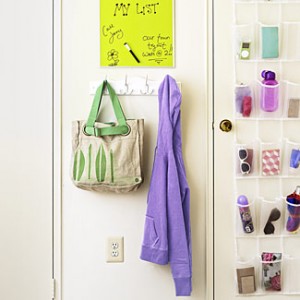 5.    Book Storage
Books are a must for a child's growth. A book shelf is a preferable way to keep the books in decent shape and avoid placing books in the toy box.
There are a few other products, such as backpack hooks and hanging organizers, that can keep a kid's room organized.
Keeping up:
To make it easier on everyone, be diligent in keeping your children involved in the organizational process by using these guidelines:
Toy patrol – Every night as a bedtime ritual your child will go on "toy patrol" to put toys back where they belong.
The pickup path – Whatever is in the way from the bed to the door will need to be picked up and placed in the correct area. It's important to keep a safe path in case of emergencies.
Weekly visits – Checkup weekly to make sure the storage is being used and maintained correctly.
Tomorrow, August 5, we will tackle the bathroom area in the fourth part of our organization series.
Find more tips for moving with children here: https://www.wheatonworldwide.com/2014/01/14/moving-kids/
Reference: "Clutter Rescue" by the Good Housekeeping Research Institute
Photos: Good Housekeeping