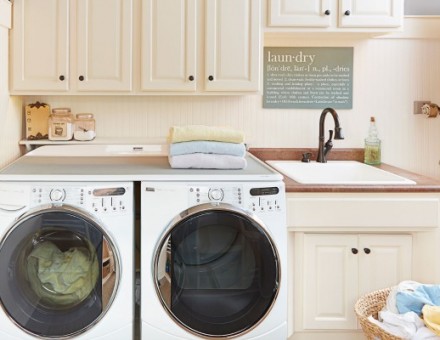 For the final section of Wheaton World Wide's organization series, "A Place for Everything and Everything in its Place," with help from the book "Clutter Rescue" from the Good Housekeeping Research Institute we will be exploring the organization of laundry rooms.
The location of the laundry room is dictated by power and water lines and the venting necessary for a dryer to operate. This means that the laundry room could be anywhere in the house, basement, kitchen, its own separate room, etc. No matter where the room is, the area should provide enough room to maneuver around the washer and dryer, space for supplies and a place to fold and iron clothes.
To avoid access clutter, everything in the laundry room should have a place to go when not in use. Because of the specific function of the laundry room there shouldn't be much of a question as to what should go in there.
Supplies Storage:
Depending on the type and size of your supplies, this will dictate the type of storage that you might need, however, it does not need to be extensive. Cabinets and shelving are typically the best tools to hold the supplies. Be sure to keep the supplies separated by type and in order of use. In a home with small children, make sure the hazardous liquids are out of reach. You will also want an area to presort laundry, which may require a few laundry baskets or hampers.
Ironing Station:
Ironing can be made more pleasurable and easier with the right board and station area. Your choice of board be a mounted board or a freestanding unit.
The advantage of the mounted board is the under space as well as a stable ironing station. There are two types of mounted boards: Recessed boards, which are completely hidden and out of the when stored. Surface-mounted boards fold up against a mounting platform in plain view.
Free standing ironing boards are the least expensive and the simplest for use. They are easy to store because they usually fold up and can go in a closet or up against the wall.
Drying and Folding Area:
A drying and folding area is one way to diminish the possibility that clothes will become bedroom clutter. It is also wise to include drying facilities in this zone because the natural next step is to fold or hang them.
There are many types of structures to dry clothes. Drying racks come in all shapes and sizes and in metal or wood. There are expandable racks or flat drying shelves and trays. Shelves are best used for delicate blouses and sweaters. You could also add a drying line, or foldout hanging bars.
A laundry room benefits from a specific area for folding laundry. You don't need a lot of space. Deep countertops are the best to fold laundry, but creating one out of plywood or hard plastic on top of your dryer is also a possibility.
Soaking Area:
Most laundry areas will come with a "slop sink" for soaking garments and hand-washing delicates, such as sweaters. Hang a rag or paper-towel dispenser within reach of the sink. Keep a wire or plastic mesh bin in the sink as a place to put garments to drain.
Keeping Up:
Inventory Analysis: Before you go shopping, check the supplies-storage area of your laundry room. Return supplies to the proper area and check for supplies that need to be replenished.
Orphan patrol: On a week when you are not doing laundry – visit the laundry room to check for leftover soaking, dried or dirty clothes. Return these orphans to the correct location.