Not only can you save on Black Friday, but you can also save on your upcoming move! From now until May, you can take advantage Wheaton World Wide Moving's "Change Never Felt So Good" promotion for an interstate move and save money while moving your household goods with a peace of mind.
What you get: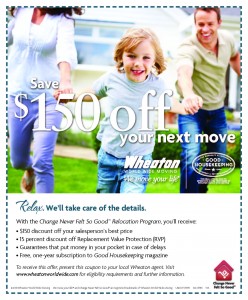 • $150 discount off your salesperson's best price
• 15 percent discount off Replacement Value Protection (RVP)
• $250 per day delay guaranteed delivery dates, we will give you $250 a day
• $25 per day claims guarantee if the claims resolution letter is not received within 30 days
• Free, one-year subscription to Good Housekeeping magazine
To qualify, your move:
• Must be an interstate move in the contiguous United States weighing 5,000 lbs. or greater
• Commence between now and May 1, 2015
• To receive 15% off of Replacement Value Protection, you must purchase Replacement Value Protection
• Dates must be consistent with Wheaton's Transit Time Guide
Learn more about this special promotion by talking to your local agent.