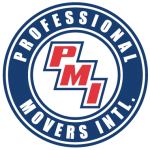 New agent announcement
Professional Movers International (PMI) recently joined Wheaton World Wide Moving's agency network as a prime interstate agent. Previously affiliated with Stevens Worldwide Van Lines, PMI joins more than 200 Wheaton agents across the country.
"Professional Movers International is an excellent fit with the Wheaton agency family," said A.J. Schneider, Executive Vice President of Wheaton | Bekins | Stevens. "We are thrilled to add Greg, Lori, Scott, and the rest of the team to the network."
Welcome, PMI!
Background
The Phoenix moving company has been handling local and long distance moves for more than three decades. PMI is family-owned and operated and boasts a team with several decades' experience. New owner Greg Wolfe grew up in the moving industry, working alongside his father as a Bekins Van Lines agent in the 1980s. General Manager Lori Ruiz has been with the company for nearly 20 years, and Director of Sales Scott Goble has more than 20 years' experience in moving sales.
The team at PMI has a network of their own within their community. They work with the Phoenix Dream Center to support homeless, low-income and struggling individuals and families, donating time, money and services to the organization. PMI team members also encourage their community to support Move for Hunger by donating canned food instead of moving nonperishables when they relocate.
Contact
PMI is located at 3843 N. 36th Ave., Phoenix, AZ 85019. They can be reached by phone at (623) 936-1118 or online at https://professionalmoversinc.com/.