Wheaton agents meet and exceed the highest standards required of moving and storage companies. But there are plenty of moving companies out there, advertising online, who are not much more than a couple of guys with a rented truck. If you are still in the mode of comparison-shopping, here are five simple questions you can ask potential moving companies in order to weed out the bad ones.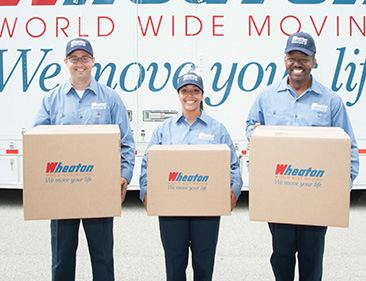 1. Does your moving company have an office and/or warehouse facility?
Properly running a moving and storage company requires a significant amount of equipment, organization and staff. Without a real facility, you may be dealing with a fly-by-night moving company.
2. Do you own your own vehicles?
Wheaton agents take pride in maintaining trucks and vans that are safe, clean and reliable. If a moving company does not own their own vehicles the chances that they are properly maintaining the vehicles is very much in doubt.
3. Do you have insurance?
This is a no brainer. No insurance? Find a different moving company.
4. How many of your employees are "on the books," either full- or part-time, and how many are day workers?
Wheaton movers are professionals who are invested in doing the best job possible because the success of the company relies on them. Some discount moving companies hire day laborers who are not on the books, get paid cash at the end of each day, and have no incentive to take good care of your home or belongings.
These few simple questions can help prevent you from going through a "moving nightmare" with an untrustworthy moving company who uses poor business practices. For more moving tips and resources visit the Wheaton Planning & Guides library.
Move with Wheaton
Ready to find out more about Wheaton? Request your own free in-home estimate, or contact us today at 1.800.248.7962 to speak to a Wheaton representative about your moving needs.