Wheaton needs your driving expertise
Drive for Wheaton
Professional Van Operator Jobs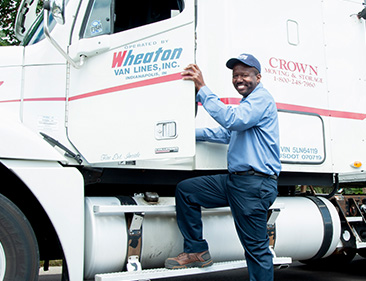 You probably see a lot of van operating jobs out there… But the difference at Wheaton is that we'll always treat you as a respected member of the team. Wheaton has been in the business since 1945; you can be confident that we'll connect you with a professional agent network that spans the United States.
CDL Van Operating Jobs: Who Should Apply?
If you want to drive for a company that values transparency and honesty, apply for a professional van operator job at Wheaton. We're looking for drivers and owner-operator truck drivers, who are passionate about the moving industry. Apply using the form below if:
You go beyond "just driving." If you can effectively manage a crew, relocate families to their new homes, safely and efficiently pack delicate items, load trailers, interact with customers, protect homes and property from damage and more, we want you on our team!
You're passionate about the moving industry. A career in household goods moving isn't for everyone. It takes a specific set of skills and a deep understanding that this work is more satisfying and rewarding than simply driving; it's about helping people.
Benefits of Driving for Wheaton
Wheaton offers one of the best compensation packages in the industry as well as line-haul advances with no service fees. You can also earn additional compensation for quality performance and a low claim rate. A few more benefits include:
Sign-on bonus
6 figure income potential regardless of formal education level
Daily interpersonal interaction with customers, dispatchers, customer service and more
High degree of flexibility with your schedule and where you go
Off-season downtime
Fun, family atmosphere
Apply For a Van Operator Job With Wheaton Below:
Fill out the form below to submit your request to Drive for Wheaton.
Frequently Asked Questions
When you become a driver for Wheaton World Wide, you become a partner with a moving company that is a leader in its industry. You can be confident you're driving for a company that knows what they're doing because we have nearly 80 years of household moving experience. Centrally located in Indianapolis, Indiana, Wheaton World Wide brings strong leadership and responsive support to the table. We recognize hard work with performance-based compensation and an enriching working environment.
Extremely flexible. Truck drivers are business owners, and one of the key benefits of being a contract driver for Wheaton World Wide is the flexibility it allows. That's why Wheaton does not force dispatch OTR drivers. We support and respect work-life balance—if our drivers are happy, our customers will be, too!
At Wheaton, we understand that change can be difficult. However, change can also be amazing. Everyone at Wheaton works hard to make driver transitions easy. Not only will Wheaton pay for driver travel and accommodations during onboarding and orientation, but we also offer an attractive sign-on bonus to keep you moving. The earning potential at Wheaton is among the highest in the trucking industry. Plus, we don't skimp on the benefits, we foster a healthy work environment and we recognize our drivers' hard work through compensation and Wheaton Driver of the Year awards.