Our History
A Long History of Moving Families and Improving Lives.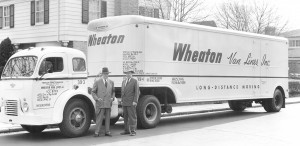 It was in 1945 that Earnest S. Wheaton founded our moving company, originally named Clipper Van Lines. From our very first move, which began in Canton, Ohio, and ended in Constantine, Michigan, we were committed to quality. When we began, we started out with an original authority for 22 states in the eastern United States. As we began our expansion to offer moving services to the rest of the country in the 1950s, we changed our name to Wheaton Van Lines, Inc. By the end of the decade, we were international.
In 1973, Wheaton became the first carrier in the nation to hold complete 50-state authority from the Interstate Commerce Commission. Then came the 1980s, another big decade for us, and one that saw our name change to Wheaton World Wide Moving, which it remains to this day. Our agent network continued to grow, and we adopted our Employee Stock Ownership Program, which plays a big role in the excellent customer service our patrons receive by ensuring our employees are invested in the outcomes of our work. We were named one of the top 101 service companies in America by the book "The Service Edge."
In the new millennium, our moving company became a corporate sponsor of Give Kids The World, a non-profit resort for children with life-threatening illnesses whose wish is to visit Central Florida's attractions. This was part of our long-standing commitment to our community.
Today, Wheaton has grown from our humble beginnings to a worldwide moving company endorsed by industry leaders, and one that enjoys many productive partnerships. We've accomplished all this by never losing sight of our focus: We move your life.