What to Expect During Your Move
How to Plan A Move for a Stress-Free Experience
At Wheaton, we understand that long distance moving can make you feel overwhelmed—it's a big deal and a long process! That's why Wheaton will be at your side during every step of your move, from packing to delivery.
As an interstate moving company, we are experts at coordinating moves across state lines. However, if you're moving locally you can still work with one of our local agents to move within your current state. No matter where you're headed, the Wheaton team works hard to ensure that the entire relocation process runs smoothly. Looking for information on how to pack efficiently for a move? Unsure how to unpack after moving homes? We've got you covered.
What to Expect with Your Wheaton Move in 8 Simple Steps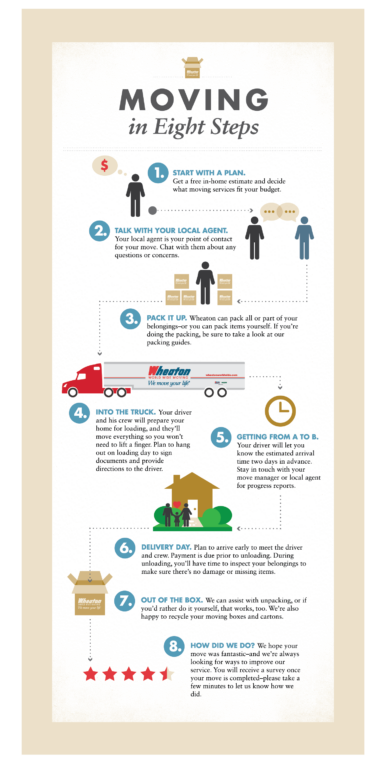 What to Do to Prepare for Your Move: Understand the Relocation Process
1. Planning Your Move
Taking the time to thoroughly plan your move will make a world of difference. It's always a good idea to book your move as far in advance as possible—that way, your Wheaton Agent can get you started with an in-home estimate at least five to six weeks ahead of your move. Your Wheaton agent can also help advise you on what services you might need for packing and storage as well as explain your valuation and protection options.
2. Working With A Move Manager
Your move manager is your advocate at Wheaton who will oversee your entire move from start to finish. As your primary point of contact, your move manager will make sure your relocation goes smoothly by staying in constant contact with agents, drivers and crews.
Move managers are also available to answer all of your questions. If you have customer service concerns or need to , your move manager can help with that, too.
3. Packing
Packing your belongings the right way is the first step toward ensuring they arrive safely at your destination. It's not always easy knowing how to pack efficiently for a move. That's why we recommend either using our professional packing services or utilizing our helpful packing guides.
The time spent packing (and the materials used) will depend largely on the items you're moving—especially if they're unusual in size or shape or considered specialty items. That's why it's always a good idea to schedule an estimate to help determine your timeline.
4. Loading
Before we begin the loading process, we provide you with a detailed inventory. Then, as our movers load your belongings onto our truck, they'll make sure everything is packed securely and safely. The time it takes to load your items will depend largely on the size of your home and the amount of items you'll be shipping. We'll label boxes individually and verify the condition of all goods.
5. In-Transit
Once your belongings are in-transit, your move manager is always available to answer any questions you might have about their location. We will also provide you with a range of dates for delivery based on the distance we have to travel. Should you need more time, we offer storage-in-transit to keep your belongings safe until you arrive at your new home.
6. Delivery, Inventory & Payment
The mover will usually give you a 24-hour advance notice of when it plans to arrive with your shipment. At that time, you must be available to accept delivery or your shipment could be placed in storage at your expense. When the truck reaches your destination, payment should be made before the truck is unloaded. At that time, it is your responsibility to make sure there is no damage to any of your belongings and that nothing is missing.
The tariff provisions require that all charges be paid in full before your shipment can be unloaded at your destination. We accept cash, traveler's check, certified check, cashier's check or money order for your move, and you can pay at any time before the truck is unloaded. If you've been granted prior credit approval, you can also choose to pay by credit card. Wheaton accepts MasterCard, Visa, Discover and American Express.
7. Unpacking
Our packers can help you unpack and dispose of the cartons, or you can take the lead and settle in at your own pace. Either way, the unpacking process goes a long way toward making your new house feel like a home!
8. Satisfaction & Service
Our goal is to make sure you are completely satisfied with your move. We do that by providing excellent and attentive packing and moving services. If you have any concerns, we want to hear from you. That's why after your move we'll follow up with a satisfaction survey and ask for your feedback.
The Expert Team at Wheaton Knows How to Plan a Move
We know that moving can be stressful… but it doesn't have to be. We are here to help with your move every step of the way.  Get help from the experts at Wheaton World Wide and contact us today.