Thousands of Americans Deal with Rogue Movers Every Year. Don't Let it Happen to You. 
Avoid Moving Scams
Wheaton moves around 30,000 households every single year. This shows our commitment to client satisfaction. Don't be another statistic when it comes to moving scams. Keep reading to learn how to avoid rogue movers. 
At Wheaton, we believe informed customers make the best decisions. We're dedicated to ensuring you understand your rights as a customer before choosing your moving partner. We provide every customer with essential documents from the Federal Motor Carrier Safety Administration (FMCSA), a valuable resource detailing your rights. You can also find these documents conveniently linked from our homepage because we believe knowledge is power, and we want you to have that power as you navigate your moving journey.
Simply providing literature isn't our only commitment. Our skilled move managers are always eager to guide customers, clarifying crucial details, such as the importance of never signing a blank document. We actively promote informed decisions, encouraging customers to gather moving estimates from at least two other companies and conduct comprehensive research. Above all, we invite and value your questions. At Wheaton, we're not just moving your belongings, we're moving your life, every step of the way.
How to Find a Reliable and Legitimate Moving Company
Always check

protectyourmove.gov

before signing with a moving company. If the name of their interstate authority's name doesn't show on the site, they aren't a legitimate mover. For instance, our local agent's names won't pop up on the list because they get their interstate authority through Bekins; Bekins Van Lines shows up on the FMCSA's list of registered movers in the database.

Insured moving companies are essential for a worry-free move. Their insurance signifies commitment to quality service and customer satisfaction. Choose insured movers for a secure, stress-free relocation.

Your moving company is required by the Federal Motor Carrier Safety Administration (FMCSA) to do a

visual

survey of your household goods. That can be in-person or virtual using your smartphone or tablet. But if the company gives you an estimate without ever having eyes on your belongings, that's a red flag that they might be a rogue moving company.

If you're asked for a deposit before your move date:

It should be a nominal amount, nothing close to a third or half the cost of the move.

Make sure you know who you're paying and that it is the mover.

Ask your moving consultant about Full (Replacement) Value Protection (

FRVP

). FRVP is the agreement with your moving company as to how much your household goods are worth. Moving without FRVP coverage means your household goods are only worth 60 cents per pound per item. Yes, FRVP costs more, but it's worth the peace of mind.
Your Certified ProMover Partner: Redefining Moving Standards 
Wheaton is a certified ProMover through the American Trucking Associations (ATA). We uphold the ethical and professional standards of the organization, which provides customer service agents to help resolve any disputes involving ProMovers.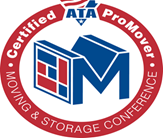 If you have questions about how to spot moving company scams or you're ready to get started with a reliable moving company, get in touch with Wheaton World Wide today. We're here to help during every step of the process. 
Frequently Asked Questions: