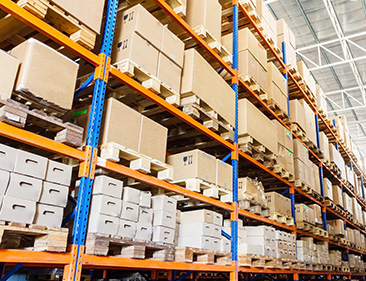 There are many reasons you may need Wheaton's storage services before, during, or even after a move. Maybe you're waiting on a new house to be built. Maybe you're moving into a smaller space. Or maybe you just need a little extra room to keep your belongings secure. Wheaton has you covered.
No matter whether you're storing boxes of books or delicate electronics, we'll keep them safe and sound. And thanks to our protection plans, you can rest easy knowing that you're covered even if the unexpected happens during transport. Learn more below, or find your local agent to get started.
Short- and Long-Term Storage
Our safe and secure storage facilities are made to keep your belongings protected. Many of our warehouses are even military approved, and we take extra precautions like shrink-wrapping upholstered furniture to make sure it isn't damaged while in storage. And in most cases, your property is easily accessible with just 24 hours' notice. Safe, secure, and convenient—this is storage you can count on.
Storage in Transit
What if you need storage during your interstate shipment? In that case, it's considered Storage in Transit (SIT), and we'll protect your belongings in a Wheaton agent's facility for as long as 180 days. If you need more time, your local agent can convert your shipment to a local move, re-quote a price for keeping your items in storage, and give you a new cost for delivering it to your home when you're ready.