Keep Your Belongings Safe and Secure with Reliable Moving & Storage Services
Wheaton Storage-in-Transit Services
No Matter How Long You Need to Store Your Belongings, Wheaton World Wide Has You Covered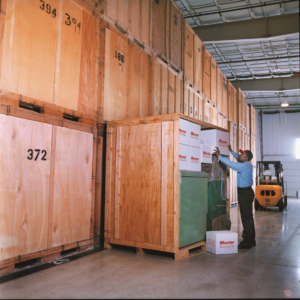 There's a variety of reasons you might need Wheaton's storage services before, during or after a move. Whether you need a little extra room to keep your belongings secure, you're moving to a smaller space or you're waiting on a new house to be built, Wheaton is ready to meet your needs with exceptional storage services.
At Wheaton World Wide, we offer cost-effective and secure moving and storage services. We have warehouses located across the country, so no matter where you're headed to or from, we can store your belongings safely.
What kind of storage services does Wheaton World Wide Moving offer?
We'll care for your belongings for as long as you would like, whether that is a month or several years. No matter where you live or where you're moving to, let us take care of you and your property with the quality services you deserve. Storage services we offer include:
1. Storage-in-transit Services
The last thing you want is to leave your valuable belongings in an unsecured location or have to rush through unpacking them. That's why Wheaton provides storage-in-transit services during your interstate move.
Benefits of Using Wheaton's Storage-in-Transit Services:
We'll keep your possessions safe and secure in one of our excellent facilities for up to 180 days. Once you're ready to receive your items at your new home, we will deliver them in pristine condition. Even if your move is delayed, we will work with you to get your belongings to your new space at a convenient time.
2. Long and short-term Storage Services
Is your current home too small for all your belongings? Do you need to store delicate items where kids or pets can't find them? Wheaton World Wide Moving can provide you with long- and short-term storage to make your situation easier.
Benefits of Using Wheaton's Long- and Short-Term Storage Services
When you store your household items with us, they will be kept in a secure, regularly-monitored facility. We take protective measures—such as applying shrink-wrap to furniture— to ensure that your items are not damaged while in storage. As soon as you want your items returned, all you have to do is give us 24-hours' notice, and you'll get your belongings back.
How Do I Get Started with Wheaton World Wide Moving and Storage Services?
To get storage services near you, contact Wheaton World Wide today! We provide moving and storage services you can trust with even your most valuable possessions.