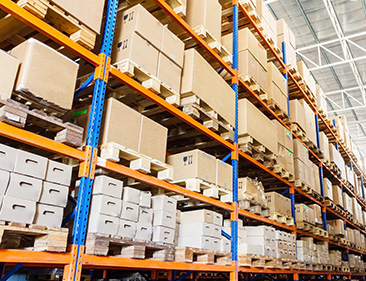 There are many reasons you may need Wheaton's storage services before, during, or even after a move. Maybe you're waiting on a new house to be built. Maybe you are moving into a smaller space. Or maybe you just need a little extra room to keep your belongings secure.  With clean and secure facilities, Wheaton has you covered.
We offer a wide variety of moving and storage services to fit every situation and every customer's needs. In particular, our storage facilities are designed to be the best in the industry. Find a local Wheaton agent in your area, and let us tell you more about our superior moving and storage services.
Storage-in-Transit Services
Many individuals have found that moving across the country can take more time than anticipated. The last thing you want to do is rush through unpacking your valuable belongings, or worse, leave them in an unsecured location. This is why Wheaton World Wide Moving provides a storage-in-transit service.
We'll keep your possessions safe and secure in one of our excellent facilities for up to 180 days. When you're ready to receive your items at your new home, simply let your Wheaton agent know and we'll deliver them in pristine condition. Even if your move is delayed, we will work with you to provide new moving and storage services to match your needs.
Long- and Short-Term Storage Services
Maybe your current home is a bit too small for all of your belongings, or you would like to store certain delicate items somewhere the kids can't find them. Whatever your situation may be, Wheaton World Wide Moving can provide the long- and short-term storage services that you require.
When you store your property with us, it will be kept in a secure facility and regularly monitored. As soon as you want your items returned, simply give us a 24-hour notice and you'll receive your belongings back in as good of condition as when they were entrusted to us. In the meantime, we'll take protective measures such as applying shrink-wrap to furniture in order to ensure that your items are not damaged while in storage.
We'll care for your belongings for as long as you would like, whether that is a month or several years. Wheaton World Wide Moving is your premier moving and storage services provider throughout the United States. No matter where you live, or where you're moving to, let us take care of you and your property with the respect and quality services that you deserve.