Office and Industrial Relocations Made Simple.
Industrial and Office Moving
At Wheaton, we make the process of office moving and industrial facility relocation a worry-free one. How? By working closely with you each step of the way, from packing to unloading. Our team takes the stress out of moving, and we've handled these types of relocations for decades.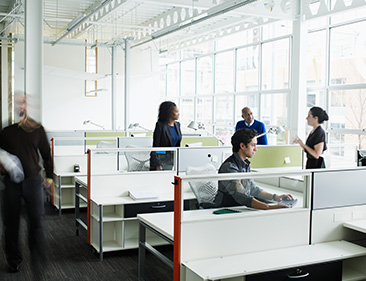 As a leading industrial moving company, Wheaton is well equipped to help your company with transporting heavy machinery, appliances, heavy fixtures, and other special pieces of equipment. We also know that industrial equipment can be sensitive, which is why we take extra care during the loading and unloading process. We also use padding, straps, and other tools to ensure your machinery is carefully secured during transportation.
Relocating a commercial facility requires skill and understanding. At Wheaton, we've worked with many commercial clients, and we understand how to handle the special items that your company counts on to run successfully. Whatever it is you're moving, from delicate electronics to heavy office furniture, count on Wheaton to get it to your destination safely and successfully. Our many partnerships mean that we're positioned to tackle any moving challenge that may arise in a variety of industries, from commercial sites to businesses in the hospitality industry.
If you'd like to learn more, or if you're ready to get started, please email logistics@wvlcorp.com.