You moved to a new neighborhood just in time for the holidays. As you're settling in, you might be wondering whether you should
throw a housewarming party
. This can be a great way to show your new digs to your friends and family, but there are other ways to branch out and make new friends. 
A progressive neighborhood dinner party is a creative way to meet new people and show off your new home. With the holidays coming up, hosting a progressive dinner for the holidays will bring cheer to your new community while introducing you to new friends who might live right next door.
What is a Neighborhood Progressive Dinner?
A neighborhood progressive dinner is a party where successive courses are prepared and eaten at different houses throughout a specific neighborhood. Neighbors move from house to house together and enjoy one another's food and company. 
Each neighbor picks a course to host at their residence. You can adjust the number of courses to accommodate for how many households want to join in on the fun. During a neighborhood progressive dinner, it's common to include the following courses:
Hors d'oeuvres and cocktails

Appetizer course

First course (salad or soup)

Main course

Dessert
If you want to host a progressive holiday dinner party to meet new neighbors and make new friends, follow the steps below to pull it off without a sweat.
How to Plan a Progressive Party for the Holidays
A lot goes into planning the perfect neighborhood dinner party. In order to make sure your progressive holiday party goes off without a hitch, you need to make a plan. Follow these tips to create a festive and fun neighborhood party.
Talk With Your Neighbors 
Progressive dinner parties are a bit different than a standard housewarming party or holiday bash. Instead of simply sending out party invites, you'll need to talk with your neighbors about joining in on the fun. 
Think about who you would like to invite to a holiday housewarming party and make your guest list. Then walk around your neighborhood to ask folks if they'd like to host a course during the progressive holiday party. This is a great way to introduce yourself and let people know you're excited to get to know your new community. 
Plan Your Dinner Party Menu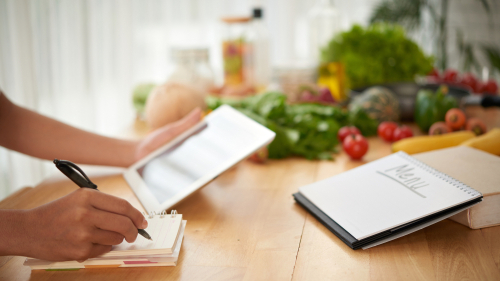 After you've assessed your neighbors' interest level, start planning the menu. Usually, progressive dinner parties involve anywhere from five to six couples. Once you decide who to invite, contact everyone and ask them to meet with you to decide who will handle which course.
When you meet with your guests to plan, have a list nearby with options. Decide which things you will prepare and how long you'll stay at each house. Help come up with ideas for entertainment during each round of the dinner party. Suggest easy-to-make recipes, and set a specific night that works for each couple.
Pick a Theme for Your Neighborhood Party
Once you have the guest list, it's time to pick a theme. Your neighborhood progressive dinner theme will help guide your choices for decoration, food and drinks. Would you like it to be a holiday housewarming party? What about a Christmas Luau or Cookies and Cocktails? Ugly sweater parties are always a good choice for the holidays.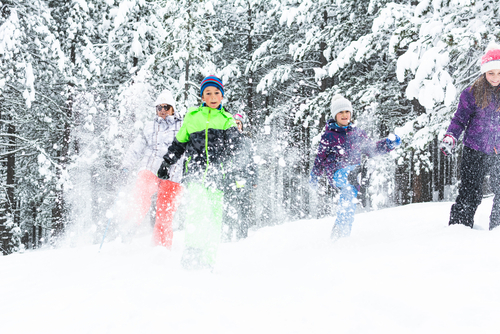 If any of you have children, pool money together and hire a babysitter for the night. Invite the babysitter to play holiday games with your children. Help make it a night for them to remember, as well.
Prepare Food for Your Neighborhood Party
Once you've determined who is in charge of each course, start preparing the dish you'll serve. The holidays afford plenty of seasonal flavors that make everyone want to gather around the hearth to enjoy good cheer and delicious cuisine. From finger foods to plated delicacies, whatever you choose to make is sure to delight your new neighbors.
Depending on the course you chose to host during your holiday neighborhood progressive dinner, here are some recipes you might want to try:
Hors d'oeuvres and Cocktails
If you're starting out the neighborhood progressive dinner, you have the privilege of setting the tone for the rest of the evening. Choose a crowd pleaser for the hors d'oeuvres and cocktails course. 
Eggnog is one of the staples of the Christmas season and sure to tickle the taste buds. Try this recipe to make a family-friendly eggnog with the following:
8 egg yolks

2/3 cup refined white sugar

2 quart whole milk

2 cups heavy cream

1 tbsp freshly ground nutmeg

1 tbsp cinnamon

8 egg whites
In a mixer, beat the egg yolks and add the sugar. Once the sugar dissolves, add the milk, cream, nutmeg, and cinnamon. Next, beat the egg whites in another mixer and then add to the first mixture. Chill and serve. Makes 12 cups.
Appetizer
After cocktails come the appetizers. Keep the neighborhood party going with something salty and savory. Your guests' mouths will water over easy-to-make bacon-arugula-apple bites. 
To make them, try this recipe:
Apple slices (any variety)

Lemon juice

Spreadable cheese

Garlic and other herbs

Cooked bacon pieces

Arugula sprigs

Cracked pepper and salt
Cover the apples in lemon juice so they don't brown. Next, mix the garlic and other herbs into the spreadable cheese (or buy a cheese that already has mixed-in herbs). Spread the cheese onto each apple slice and then top with bacon, arugula, pepper and salt.
First Course
If you've been assigned the first course, try this wintery, flavor-packed salad. This Quinoa, fennel and pomegranate salad is easy to prep ahead of time and is a crowd favorite. Here's what you'll need: 
Olive oil 

Fennel bulbs 

Lemon juice 

Ground cumin 

Sugar 

Quinoa 

Serrano chile 

Cilantro 

Fresh mint 

Chopped fresh dill 

Pomegranate seeds 
Heat the fennel in a pan with oil. Stir occasionally until the fennel is golden. Add lemon juice, cumin and sugar. Meanwhile, cook the quinoa. Add lemon juice and oil to quinoa and stir. Add fennel mixture, chile and herbs, toss gently… enjoy! 
Main Course
If you're lucky enough to be in charge of the main course, this is your chance to make a huge splash. You'll want to pick something that will get your neighbors talking, but also something that doesn't require so much work that you won't be able to enjoy yourself at the neighborhood party. 
The queen of hearty cuisine and celebrations, Martha Stewart, has dozens of holiday main dish recipes to choose from. She combines unique flavors with tasty vegetables and mouth watering meats. Each of her meals will amaze your guests, and they may even persuade a few of them to set up future dinner appointments at your home. Making and keeping new friends in the neighborhood should be a whole lot easier with a little help from Martha Stewart. 
Dessert
Last but not least, dessert can be one of the most fun courses of a progressive neighborhood dinner. The holidays are a time to indulge. You can't go wrong with a sugary treat at the end of a fun night.
You can win your guests over with one of the most surprising and satisfying desserts of the season: candy cane cheesecake. Not only will this delicious dessert surprise your guests, it will help them remember how sweet the holidays are supposed to be.
Enjoy your progressive neighborhood dinner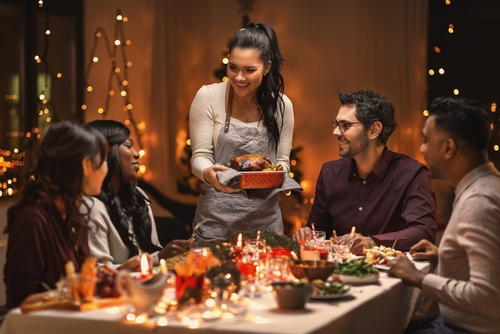 Food? Check. Theme? Check. Party time? Check. Once you've prepared for the evening, sit back, relax, and enjoy your progressive holiday dinner party. Meet with your fellow hosts and travel to each house together. Sing carols along the way. Do whatever you can to solidify friendships and have a good time.
A neighborhood progressive dinner is one of the best ways to get to know different people in your community and start settling in to your new home. The holidays are right around the corner. Start planning your progressive neighborhood party in your new neighborhood today! 
Hire Professional Movers for Your Holiday Move
Before you can host a housewarming party or throw a progressive neighborhood dinner, you need to get safely settled into your home. Moving during the winter can be tricky, so you need experts on your side. 
Wheaton World Wide Moving has more than 75 years of experience helping families move. Our priority is taking care of you and your belongings during every step of the move. Get a free estimate to get a better idea of your upcoming moving costs.