A year ago,
Give Kids The World
took on the daunting task of renovating 88 25-year old villas in a two week period, a task that was achieved with the hard work and planning of thousands including a team from Wheaton | Bekins. We are looking back at the successful renovation with the people that helped make it happen from the members of the Wheaton World Wide Moving | Bekins Van Lines team.
Planning started back in June 2013 when Michael Bausman of Give Kids The World called Jason Fontaine of Central Moving & Storage for help with the two-week renovation. Jason went to his dad and owner of Central Moving & Storage, Jim Fontaine, about how they could help.
"I told him that the village was going to renovate approximately 100 units over a two week period. He quickly did some math and said we could pull that off in two weeks then I told him that the renovation was going to be two weeks, but we have two days to get all the furniture fixture & equipment (FF&E) items in," explained Jason Fontaine. "He replied you didn't tell them we could do it. My answer was if we don't do it somebody else will. This is something we had to do for the kids and the village."
The two started brainstorming on how to get the manpower and keep the cost down for the village, so Jason contacted President of Wheaton | Bekins , Dave Witzerman to help recruit agents and corporate staff to help with the renovation.
With plenty of planning over the next seven months, Jason and the team worked with the Wyndham group for now deemed – Extreme Village Makeover, and extreme it was.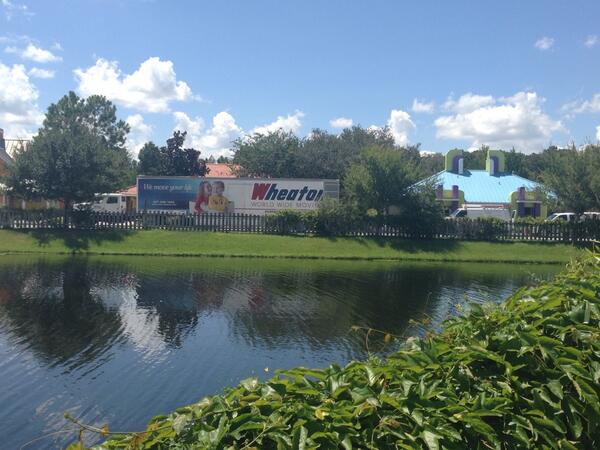 "Central Moving & Storage handled over 350,000 lbs. of FF&E / Construction items for this project. We received approximately 300,000 lbs. in our warehouse," Fontaine said. "There was a total of 38 trailers that were unloaded by CMS and their volunteers in two days. There was an additional four trailers loads of kitchen cabinets and four trailers of construction material that we delivered prior to the install."
While Central Moving & Storage worked on the staging and operations, a 75-person Wheaton | Bekins team consisting of agents and corporate staff went to Orlando to unload and reassemble the furniture in the final two days of the Extreme Village Makeover Project.
Chief Information Officer at Wheaton | Bekins, Jerrod Carter remembered what it was like trying to make the two-week deadline of renovating the villas for Extreme Village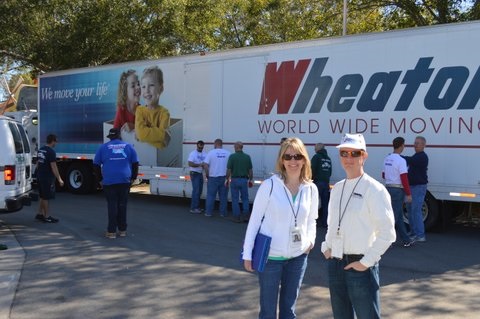 Makeover.
"The biggest thing I would say is it was enthusiastic and chaotic, but it was a very organized chaos. Everyone knew what their job was and there was a lot of activity going on all at one time in one unit." Carter said. "We were just trying to get all of that work done as quickly as possible so Give Kids The World can get back to their mission of having kids on site and providing that unforgettable experience for that family. Everyone there knew that and were enthusiastically there to support that."
With the hard and enthusiastic work of all the volunteers and businesses, the project was successfully completed in the short two-week time frame. The new villas were unveiled on ABC's Good Morning America along with Ty Pennington of Extreme Makeover: Home Edition.
"This project is one of the most aggressive projects that CMS has ever been a part of and could not have done it without the support of all the agents that gave up their time and knowledge to assist us."
For all of his hard work as one of the main coordinators of the event, Fontaine was given an inaugural key to the village for his hard work on the project.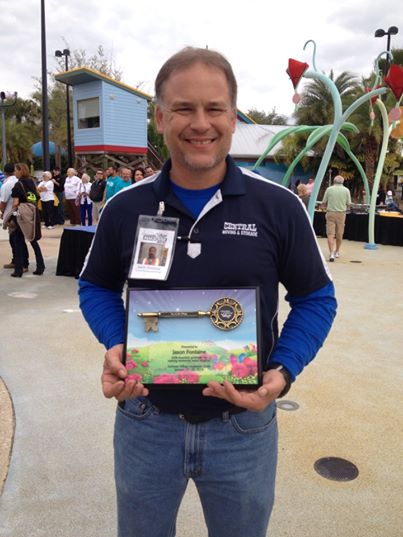 "I was honored," Fontaine said. "There was still actually work that needed to be finished up, but Philip Torres of GKTW grabbed me and said you need to take a break and get something to eat and listen to the closing speeches. When they called my name I was in total shock. I was just doing what was right for the village."
The completion of the villas was not only a huge success, but it brought the Wheaton | Bekins team closer together.
"Things like this bring all of us so much closer as agents and friends. It reminds me of the early days when we all had more time to do things together, which were the best years ever," said Henry Cadle of Preferred Moving & Storage.
Wheaton| Bekins has been a partner of Give Kids The World since 2000, leading the efforts of Keaton's Korral, where 7,300 families each year have been able to experience the fun of horse and pony rides, as they wear western hats and get to live out their cowboy dreams. Currently, Wheaton | Bekins is matching all donations to Keaton's Korral until Jan. 31. To donate, please visit www.gktw.org/keatonskorral.
You can watch the recap of it all here, including the unveiling of the Villas here: https://www.youtube.com/watch?v=YE2UEu8LXu4
Ian Hazzard from Hazzard Moving & Storage also documented the experience which can be viewed here: https://www.youtube.com/watch?v=MrbxQOpdLCM
A very special thank you to all of the agents that had participated in the makeover.
AAA Moving & Storage:
George Bunkis
Richard McCant
Action Moving & Storage:
Shawn Biggs
American Relocation & Storage Systems:
Steve Lancashire
Bell Moving & Storage:
Deb Jablonski
Jim Jablonski
Joe Maddux
Marie Coakley
Neil Coakley
Tamara Kissel
Bill Kissel
Boerman Moving & Storage:
Dan Boerman
Mark Paloucek
Friends of Central Moving & Storage:
Drew Benedetto
Pam Benedetto
Adam Palmer
Pam Haines
Preston Haines
Paul DeCarlo
Florida Transfer & Storage:
Angelo Rick
Rachel Husky
Scott Huskey
Tracy McDuffy
Frank & Sons Moving & Storage:
Alex Hillman
Jim Gravedoni
Gilmore Moving & Storage:
Clayton Shaffer
Fredrick Riley
Steven Surles
Roni Gilmore
Hart Moving & Storage:
John Hart
Hazzard Moving & Storage:
Patrick Hazzard
Ian Hazzard
Liberty Movers:
Anthony Mandella
Callie Fontaine
Eric Desorcy
James Bibeau
Jason Dion
Jennifer Hennessy
Karen Fontaine
Mason Husser
Matthew Anderson
Matthew Walsh
Michael Fontaine
Michael Mandella
Paul Fontaine
Ryann Fontaine
Stephen Fontaine
Timothy Harris
William Henry
David Fontaine
Joe Fontaine
Scott McNamara
Audra McNamara
Preferred Moving & Storage:
Henry Cadle
Megan Cadle
Mark Crantz
Graham
Wheaton | Bekins corporate
Dave Witzerman
Jerrod Carter
Steve Burns
And all of the staff at Central Moving & Storage
Jason Fontaine
Jim Fontaine
Tammie Fontaine
Al Rossi
Chris Chapman
Chuck Gurganious
Jeffery Richardson
Jim Foley
John Brennan
John Christie
Nick Benedetto
Pam Fontaine
Willie Weeks
Mark Compton