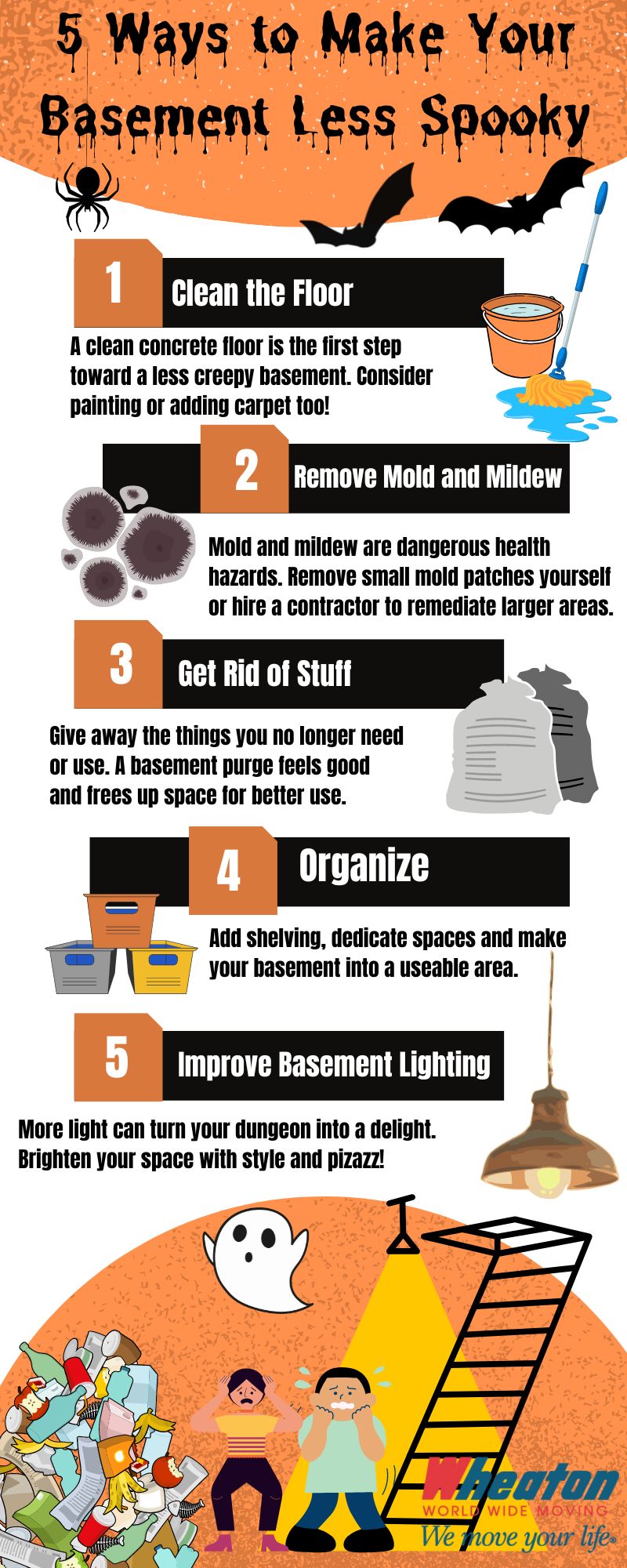 Things can pile up in a basement quickly. Despite your best intentions to clean it "this weekend" or the next, things accumulate over months or even years until your basement becomes its own house of horrors. Want to make your basement less spooky? We've got some ideas for you!
We know that when you move you have a million concerns to worry about and your basement is rarely one of them. It's likely the place where you dumped everything that didn't have a designated spot. Unfinished basements can be dark, spooky and unpleasant to go down into. Let's upgrade yours into a functional space that you actually enjoy spending time in. Here are Wheaton's tips to make your basement less spooky and more functional.
How to Clean a Concrete Floor in a Basement
Let's start from the bottom up. Basement floors can be gross, dirty and unpleasant to look at let alone walk on. Making that cold slab of concrete a little more inviting is a great first step towards reducing a basement's terror factor.
How to Clean a Basement Floor:
Move all clutter. You may have to clean your basement floor in sections if you have a lot of stuff. Clear a good sized path.
Ventilate. Open windows if possible and bring down a fan or two.
Vacuum or sweep. Get that first layer of dust and dirt removed. Shop vacs are great for picking up rusty screws and other debris you might encounter.
Mop and scrub. Make a cleaning solution with warm water, detergent and ammonia. Make sure you use rubber gloves because ammonia is a strong disinfectant that kills mildew but it can be toxic. Scrub stains with a nylon brush. If your floor is particularly grimy, you may have to take a few passes with fresh water and soap.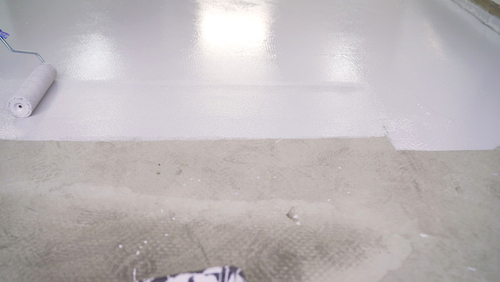 Once your entire floor is clean, consider painting it. Paint creates a fresh, new surface that looks and feels better. Using a favorite color will brighten your dungeon and reduce those drab, gray concrete vibes. Make sure you use a heavy duty primer or concrete-specific paint to cover your floor so it will last.
Adding a rug or carpet can soften and warm your basement space. Just be sure your flooring material doesn't mold or mildew from excess moisture.
Remove Mold in Basement
Mold and mildew are true basement horrors. Not only do they look creepy, they can pose real health risks. Dampness, leaks and poor ventilation conspire to create a breeding ground for mold.
If your basement's mold problem is small—less than 10 square feet—you can clean it yourself. For larger affected areas, call a reputable mold remediation service to do the job completely.
How to clean mold in basement:
Eliminate moisture. Fix leaks, seal cracks and run a dehumidifier to reduce the level of moisture in your basement.
Use protective gear. Before you start, gather goggles, face mask and rubber gloves. If you are removing affected materials, have heavy duty contractor bags on hand.
Remove moldy/rotted materials. If you have wooden shelving, drywall or carpeting with mold, tear it out and seal it in heavy duty trash bags.
Spray an anti mold cleaner. Use a commercial product like Concrobium or a natural alternative like vinegar and baking soda. Let sit for 15 minutes.
Scrub the mold using a brush and cloth. You might not be able to remove the stain but vigorous scrubbing will remove the mold itself. Allow the cleaned area to dry completely.
Repaint. Once you're confident that the mold is gone, you can cover the area with a mold resistant paint to prevent mold from returning.
Eliminating mold is a serious process, and is necessary to make your basement less horrifying. If you're unsure about mold in your basement, consult a professional.
Full Basement Clean Out
Are you really going to need that extra coffee maker you got as a wedding gift? When's the last time you read any of the books in that box? Will that high school sweatshirt still fit?
We accumulate stuff easily. Getting rid of it is the hard part. Take a good look at what's in your basement and calculate when the last time you needed it was. Purging unneeded items will make you feel less encumbered and it will make your basement a lot more inviting.
Before you call in the dumpster, here are some tips on how to get rid of things:
Regift them to friends and family.
Donate clothes and household goods to local charities.
Drop unneeded items at thrift stores like Goodwill or Salvation Army.
Bring arts and craft supplies to schools or churches.
Contact schools and colleges about old electronics or engine parts for education.
Remove hazardous items and dispose of them at your local drop off station.
Emptying out your basement can be a lot of work, but it's worth it. Freed up space will make your cellar feel stellar!
Basement Organization
An uncluttered basement where everything is organized is a lot less scary than the alternative. Even an unfinished basement that is well organized can feel welcoming. Now that you've gotten rid of the things that you don't need, it's time to organize the rest. We've got basement storage ideas to get you started.
How to organize your basement: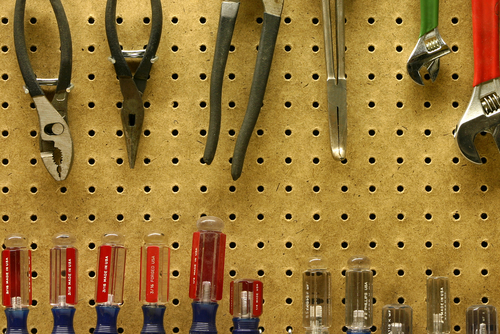 Basement storage shelves. Shelving is a must. And in your basement you'll want heavy duty, mold resistant shelving that's made of metal or plastic. Before you head to your home improvement store, check local listings on Nextdoor or Craigslist. You can often find bulk shelving at a fraction of the cost.
Dedicate spaces. Start putting similar items in the same area. Do you have a tool bench? Make sure all your tools, fasteners and building supplies are together. How about sporting goods? Dedicate an area where tents, backpacks and camp kits can go. Put seasonal items like decorations where you can easily find them.
Use plastic storage bins. Plastic bins are not only a great way to organize things, they can protect your items from musty smells and damp air. Bins are sturdy and easy to stack. Make sure you label your bins so you can find what you're looking for when you need it.
Create usable space. Your basement might not feel so scary if you used it more. Have you been wanting to get back into a hobby? Create a workroom or clear a corner that's just for you. How about a fitness area or a woodshop? There's lots of ways to use your basement and make it more inviting. A few pictures on the wall and a little TLC will make you want to run downstairs on the weekend.
Basement Lighting Ideas
Finally, let's brighten your basement. Lighting can make a huge difference in how you feel when you descend your basement steps. Without a lot of natural light, you'll need to compensate in other ways. Those three bare lightbulbs with the off-yellow pull cords aren't going to cut it.
Ways to improve basement lighting:
Add fixtures. Basement light fixtures don't need to be fancy to be effective. Doubling the amount of light can make a big impact on the way you see your basement. Even a few simple fixtures from the hardware store can make a difference. If you're good with electrical DIY, installing new fixtures should be a snap. If you're not, hire a professional to make sure your lighting is done right and up to code.
Spotlight specific areas. Make sure you have a light over your workbench or your exercise area to make it more inviting and more functional.
Use brighter bulbs. You have hundreds of light bulb options. From soft white light to warm, yellow light, each bulb creates a different mood. Use bright white bulbs in your basement to make it feel more sunny and alive (in a good way).
Dress things up. Track lighting, light bars, light strings and ornamental fixtures can upscale the look and feel of your basement. Create a festive atmosphere while improving visibility and function.
The Spookiest Thing of All: Moving Your Stuff
Perhaps the scariest thing about your basement is the idea of having to move it all someday. That shouldn't be your biggest concern when the expert movers from Wheaton World Wide are ready to help. Looking at your basement and not sure where to start? Contact us today and we can help make every aspect of your move feel more manageable.