Jaymie Shook: Hi Nina, thank you for taking the time to talk with us! What's your history with The Wheaton Group?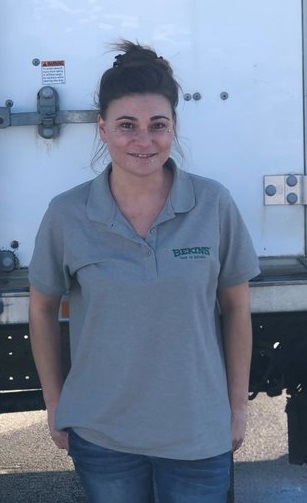 Nina Steel: I started working for The Country Picker Moving part-time in early 2020 as a packer and mover. I was then hired full-time and got into their driver training program. I am currently working on obtaining a CDL B license.
JS: That's exciting! What got you interested in driving?
NS: My uncle was a career household goods tractor / trailer driver. In 2018 I started going on the road with him and when we needed a shuttle he would have me drive the straight truck.
JS: What do you feel is the best part of being a driver?
NS: Going to see new places and meeting new people.
JS: Do you have a favorite memory as a driver you'd like to share?
NS: Pulling up to a customer's house and the woman screamed loudly "Oh my God, she's driving the truck. That's so cool!"
JS: That sounds like a magnificent feeling. What is something many people believe about household good drivers that isn't actually true?
NS: That its really difficult, physical work all the time. The truth is we are always working as a team and share the burden. It's rewarding work.
JS: We love that. What's something you wish other people in The Wheaton Group network knew about you or about drivers in general?
NS: Life on the road isn't for everyone, but I find it exciting and extremely enjoyable; seeing different parts of the country and meeting different people.
JS: Thanks so much for your time, Nina!