The New Jersey Warehouse & Movers Association (NJWMA) awarded Wheaton World Wide Moving the 2023 Associate Member of the Year Award at the state moving association's 54
th
Annual Convention September 21
st
at the Golden Nugget in Atlantic City, N.J.
The award is given each year to the NJWMA member who best demonstrates the following criteria, as determined by the Board of Directors:
Involvement with Association meetings & programs
Recruitment & promotion of Association
Local community services performed
NJWMA member for at least 5 years
"We're happy to support the NJWMA to shine the light on our fantastic New Jersey Wheaton agents," said A.J. Schneider, President of Wheaton World Wide Moving. "From All Brunswick Van Lines in Dayton to Clark's Moving & Storage in Rio Grande, Flatbush Moving Van Co. in Linden, Lowy's Moving Service in Neptune, and Olympia Moving & Storage in Thorofare, our New Jersey agents are across the board movers who are passionate about offering great service to their customers. Our hope is that this Associate Member of the Year Award opens the door for those moving companies to offer their care, empathy and expertise to more families and business in New Jersey."
Kregg Boreani, Wheaton's Director of Agency Recruiting, accepted the award for the van line at the conference.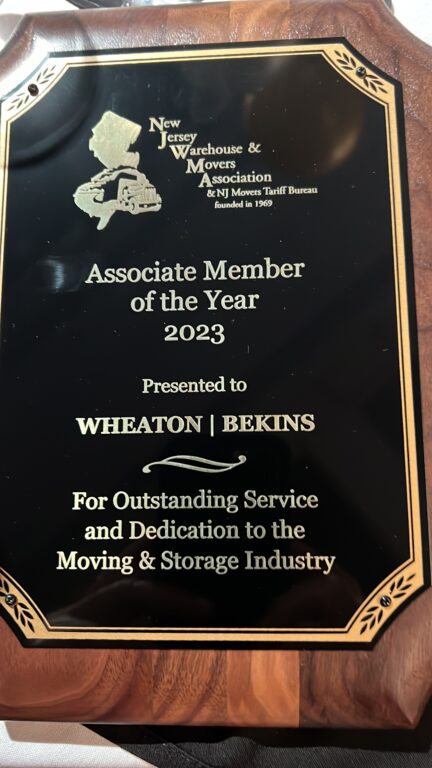 WHEATON NETWORK & NJWMA
Many of Wheaton's New Jersey agents participate in the NJWMA as members, but one stands out as significant in how the NJWMA and its members give back to the local community.
Back in 2010, Adam Lowy, whose family owns Lowy's Moving Service in Neptune, N.J., came to then-Wheaton president David Witzerman with an idea to fight hunger. With Witzerman's guidance, Lowy created Move For Hunger, a nonprofit that encouraged moving companies in the Wheaton network to offer to donate customers' nonperishable foods to local shelter free of charge rather than the customer throwing away the items or paying to move them to a new state.
Since its founding, Move For Hunger has broadened its scope past New Jersey to challenge moving companies across the country to transport food to their local food banks from customers, as well as residential communities and other organizations that collect the nonperishable items. In 2017, the NJWMA partnered with Move For Hunger to create the Food Frenzy event, an annual food drive competition for moving companies in the state to collect more food than their competitors that, in its first year, culminated in more than six tons of food donated to the Community FoodBank of New Jersey in Hillside.
Thirteen years after its founding, moving companies aligned with Move For Hunger – an idea that began with a single Wheaton agent – have delivered 37 million pounds of food to food banks across the United States and Canada.
ABOUT NJWMA
In 1969, licensed movers organized the NJWMA to build consumer confidence in the New Jersey moving industry. They uphold ethical guidelines based on honesty, safety and compliance with regulations that all movers must accept in order to join the association.  In addition to educating and training movers, the NJWMA also strives to educate consumers on the dangers of rogue movers and the importance of hiring properly licensed movers.