Chris Calamari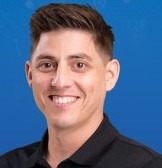 Chris Calamari
Northshore Moving Co.
Senior Moving Consultant
---
44212 Stein Rd
Hammond, LA 70403
Phone: (985) 705-6643
Email: chris@northshoremovingco.com
Chris has 3 years of experience working in the moving and storage industry. Currently working for Northshore Moving Co., Chris helps service the southeast Louisiana market.
Chris holds a BA in Management and Operations for the University of New Orleans.
Chris is also a proud United States Marine Corps veteran of nine years. Energetic, effective and perceptive, he is an organizational leader who focuses on "culture first."
With experience in sales, marketing, business development, implementing new processes & procedures and customer service, he's well-rounded in a little bit of everything.
Strengths: Servant leadership; Effective management and delegation; Understanding of a multifaceted business operation; Financial discernment; Business planning; Continuous process improvement
Skills: High level of Servant Leadership; Initiator; Creative with technology; Strategic thinker; Adaptable; Decisive; Creative problem solver; Engaged listener
Chris and Northshore Moving are proud partners