Chicago, Illinois
Boasting itself as the third largest city in the United States, Chicago has a lot to offer.  For its residents, Chicago is a hub for commerce, industry, finance, telecommunications, transportation and much more.  For its visitors, Chicago played host to over 46 million in 2012 alone.  So what is it that makes up the mass appeal of this city?  Keep reading as Wheaton uncovers some of the more unique aspects of Chicago as well as the nine Wheaton Chicago moving agents who will gladly assist you in relocating there.
Boat Rides
Anyone who has lived in or visited the Midwest for an extended period of time knows that being landlocked has its share of downsides.  Thankfully the Windy City has the Chicago River close by.  Take advantage of this natural landscape by hopping on a Wendella Boat Tour ride.  Founded in 1935, Wendella has been a Chicago staple, offering its services to over 25 million customers throughout the years.  With several different types of tours,
including an architecture tour as well as the classic lake and river tour, you're sure to get a good glimpse of Chicago – and enjoy the water at the same time.
Museums

If you're a fan of museums, Chicago is a great place to be.  Known for their caliber, museums such as The Art Institute of Chicago, the Museum of Science and Industry and the Field Museum cannot and should not be missed.  But what about some lesser known museums that are just as worthwhile? Wheaton discovered the International Museum of Surgical Science (IMSS) which fits that bill exactly. Located in a historic lakefront mansion, the IMSS offers exhibits exploring several facets of surgical practices.  From early methods all the way up to today's revolutionary techniques, this museum will have you thankful that you live in the 2000's as opposed to 100 years ago.
Chow Down
After visiting museums and sightseeing, your stomach might be rumbling.  While Chicago is a smorgasbord for food, a visit to the Windy City isn't complete without a Chicago-style hot dog or deep dish pizza.  While there are literally hundreds of choices, a popular Chicago favorite for hot dogs would have to be Hot Doug's.  While a long wait is expected, your reward will be some of the most delicious hot dogs Chicago has to offer.  With daily specials, their famous duck fat fries (served only on the weekend) and classic standards, Hot Doug's is an experience that you shouldn't miss.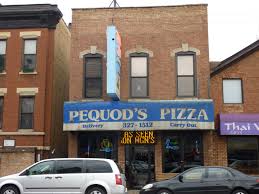 If deep dish pizza is more fitting to your craving, then stop by Pequod's Pizzeria for a gut-busting slice of the best of the best.  Known for the caramelized cheese on the crust, this is as authentic as it comes.  Choose from an assortment of toppings and get ready for a taste party in your mouth.  Chicago isn't shy when it comes to flavors, and Pequod's shows you that.
Move Here
Have we showed you enough about Chicago to make you want to move here?  If so, Wheaton has several Chicago-based moving companies that can assist you with moving.
Copher Movers & Storage in Chicago Ridge, IL
Leibundguth Storage & Van Service in Downers Grove, IL
Crown Relocations in Glendale Heights, IL
Breda Moving Co., Inc in Roselle, IL
Von Sydow's Moving & Storage in Palatine, IL
Amenity Moving & Storage, Inc. in Plainfield, IL
Advantage Moving & Storage, Inc. in Algonquin, IL
Waters Transfer & Storage in Morris, IL
Quesse Moving & Storage, Inc. in Peru, IL
Be sure to keep up with Wheaton's other travels.  Last week we went to Charlotte, NC. Where will we go next week?