Sunday Spotlight is a bi-weekly publication highlighting individual Wheaton employees, agents and drivers and the unique talents, interests and hobbies each has. 
This week, follow along as we feature the unique hobby of Danielle Weaver, Military Relocation Specialist at Preferred Movers of Nashville.
Her Hobby
The stories that Danielle Weaver has collected over the years due to her unique hobby are endless.  Run-ins with police, conflicts at work and messes in her kitchen are just a few of the consequences that she's had to endure over the years because of this activity.  Don't let your mind wander too far, though.  Danielle Weaver's hobby is doll making.
Getting Started
Collecting dolls for as long as she can remember, Weaver decided she should expand her love from not just collecting, but to creating and producing her own baby dolls.  This decision has turned into a 13-year endeavor called Lil' Darlin' Original Reborns.  She has sold her dolls in over 25 countries as well as 28 states, reaching all the way from Norway to South Africa, New Zealand to Brazil.
How It's Done
These dolls are incredibly lifelike. Her talent and creative knack for reproducing a doll from a photo is an impressive feat.  If you provide her with a snapshot, she will do her best to replicate it exactly, matching the face to one of hundreds of choices in both head and face molds.  Not only do these dolls look realistic – they feel like real babies too.  Using a stuffing mixture of sandblasting glass and silk polyester, these dolls weigh the same as their real-life counterparts.  Danielle will even make these babies all the way up to 18 months, meaning they can weigh anywhere from around seven pounds all the way to 20 pounds.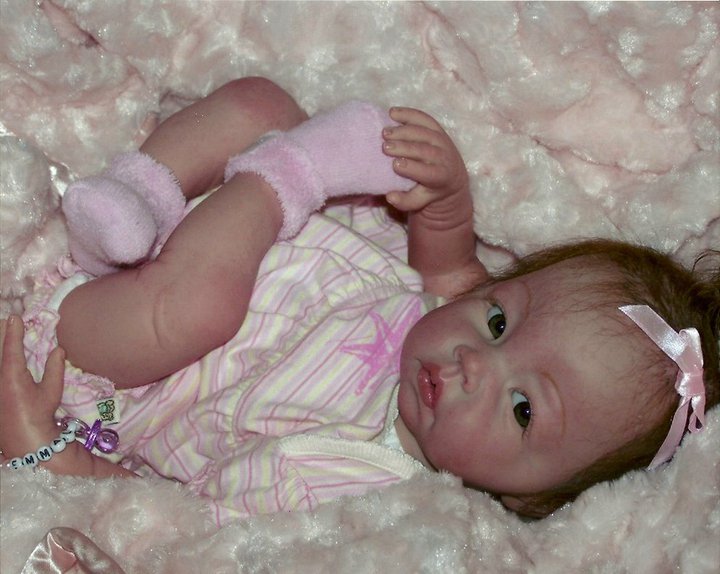 Pranks with the dolls
These babies look so real in fact that she's even gotten in trouble with the law.  While running errands during the day, which included a stop at the post office to ship one of her doll orders to a customer, she left the baby doll in her car.  This alarmed fellow shoppers as they thought there was a real baby locked inside a vehicle.  "I've had 911 called on me before.  It's happened too many times.  The doll's eyes are closed and they look like a sleeping baby," Danielle said.  "A sleeping baby in a 90 degree car! The police got to know me real well."
Danielle laughs as she remembers being pulled over for speeding one day while transporting a doll in the backseat.  "I had to prove to the police officer that it wasn't a real baby. Now I just keep a car seat in my car.  It makes it easier that way."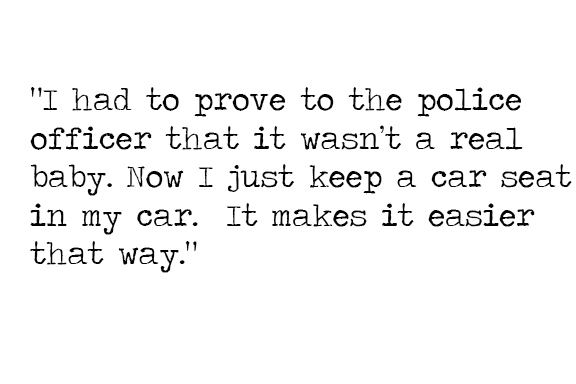 Not only has Weaver had some interesting experiences dealing with law enforcement, but she also admits that her lifelike, one-of-a-kind dolls are fun to play pranks with.  As an employee of Preferred Movers of Nashville, she recalls the first time she brought a doll with her to work.  "Shortly after I first started, I brought one in to work.  We set the doll at the owner's desk and when he walked back in, he gasped and wanted to know who brought the baby in."  Danielle continued by saying it took lots of convincing to prove that this was in fact, not a real baby, just a doll.
The Process
While pranks and funny stories are part of what goes along with Weaver's hobby, she has also garnered quite a profitable business.  Selling almost all of her dolls at the Christmas Village Consumer Show in Nashville, Tenn., Danielle spends all year preparing for her busiest season.  This involves spending around 10 hours on each doll, ensuring that the mold matches the face and that each doll has between 12-20 layers of paint.  Between every paint layer, the doll must be baked in her own kitchen oven to make certain that the paint holds true to her vision. It's a time-consuming task, but without it, the dolls would not have their same lifelike appearance.  The end result is one that hundreds of customers have been happy with over her 13 years of making the dolls.
Wheaton History
Danielle Weaver has worked in the Military Relocation department of Preferred Movers of Nashville, a Wheaton World Wide Moving agent, for a year and a half.  She has lived, along with her daughter, in Nashville for the past 22 years.  For more information on Lil' Darlin' Original Reborns, visit her Facebook page.