Moving in Middle School
Sure, moving is hard and stressful. But have you ever stopped for a second to think about what moving is like for your kids? I took a moment last weekend to catch up with some family friends who recently moved from Akron, Ohio to Indianapolis, Ind. Aside from feeling they had betrayed their beloved Ohio State University red for a Hoosier Indiana University red – there were many other things they are adjusting to since the move.
As we sat in Cold Stone Creamery – a little ice cream bribery goes a long way in helping kids to open up about the move – I asked them to explain their feelings about relocating to Indianapolis.
Allow Mitch to walk you through what it is like for a 14 year old boy in eighth grade to move.
"The biggest thing that I feared was leaving my friends. I didn't want to have to start all over and meet new friends. I had been playing sports with most of my friends since we were in little league."
Leaving friends and family may be a big challenge for your kids. Help your kids get acquainted with where they are going by making an appointment to visit the school your kids will be attending. Meet with some of the teachers and coaches, if possible. Your kids are just as worried about their new school as you are about your new job. This will help put their mind at ease.
"It helped that our parents talked to us about moving three or four months before we actually moved. It gave us time to say bye to friends. It definitely helped me transition better. My dad and I went golfing and we talked a lot about the move. It was nice to know he cared specifically about what I was thinking."
If you know you're moving ahead of time, prepare your kids by talking to them. This will enable them to work through the many emotions that might be involved with the move.  It will also make them feel like they are playing a part in the move. They need to know they are being heard.
"If I had to give a piece of advice to someone my age getting ready to move, I would say don't wait to get involved. Before we moved to Indianapolis, we made a few trips to visit. During the visits my dad helped me get signed up for some recreational basketball leagues where I met a couple of guys that I ended up hanging out with. My dad also convinced me that Indianapolis was not a boring because we went downtown to a Pacers game and out to eat. The downtown seemed pretty cool."
Plan ahead by getting your kids signed up for activities to get involved within a few weeks after you're settled into your new home. It will provide a much smoother transition. Encourage your kids by showing enthusiasm about relocating. Research unique things to do in the area. Involve your kids in the research process and ask for their opinion. Make arrangements to do something fun once you get in town. This will help to maintain a positive outlook on the moving experience.
When Mitch is not moving you can find him on the basketball court, playing Madden Football, or hanging out at his church youth group.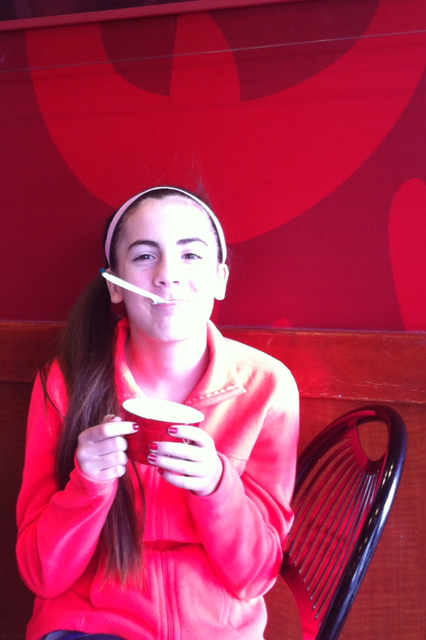 Meet Carly, a 12 year old 'fashionista' in seventh grade. There's a lot on the agenda in seventh grade, but moving is not usually one of them. Here's what this seventh grade fashion queen has to say about moving.
"Like Mitch said, I was really afraid to leave my friends! I'm shy at first and I was so comfortable with all my friends. But once I visited our new school, I was so much more relaxed. Everyone was asking me about Ohio and it gave me a chance to talk about home."
"Another big thing for me was packing. I don't enjoy packing and I just have so many clothes – it took forever! Plus, I didn't just want to throw them all in a box. I wanted to make sure my clothes were packed right!"
Do your kids, and yourself, a favor by getting organized. Don't leave all the packing for one night. Establish an organized process that works for you and start well in advance. You can also leave the packing to Wheaton. Visit our Web site to learn about available packing services.
"One of the hardest things so far has been changing neighborhoods. All of our friends lived in our neighborhood in Ohio. Here we don't really know any kids in the neighborhood. We don't even know our neighbors."
The sense of community plays a big role in the success of the move. Ultimately, your kids want to feel plugged in and accepted. Once you've settled in, make an extra effort to get to know your neighbors. Let your kids help plan a house-warming party.
"I wasn't really excited to move at first. I didn't want to get rid of any of my stuff! But after when sorted out things to get rid of, we went shopping for my new room! We didn't order it until we moved in. But it helped get me excited about my new room and house."
This is a perfect time to complete those Pinterest projects you've been perusing. Take advantage of a clean slate at your new house. Visit our Pinterest page for some decorating ideas for your new house.
"If someone my age was moving to a new town, I would tell them not to be shy. I know it can be hard, but it was the best thing I've done since we moved. I've made a lot of new friends at school and that makes it feel more like home."