Loading is done, our customers are happy and we're near Cheyenne, Wyo.
If I had to pick a word to describe the past two days, it would be relentless. We were getting our movers (another good crew) from A-1 Pioneer by 7 a.m., at the customer's home by 8 a.m. and finished at about 4:30 p.m. At home, I'm used to putting in days that can start as early as 5 a.m. and go well into the night. This is an entirely different animal.
Before I move forward, let me say this – we couldn't have had a more satisfied customer today. Once again, we brought coffee and sweet rolls and spent time talking her through the move. We walked through every room and virtually every item. Mrs. Bennett had packed most of her possessions and we were impressed with her organization and packing skills. She was on it. By the time the move was done, Bob was helping her and her son with directions to their destination in Tampa and getting pictures taken together.
Once again, I was the odd-job man and offered help wherever I could throughout the day. These guys never stopped. They never complained. They never sat down (the same cannot be said for me).
The highlight was when Carl complimented me on my blanket wrapping of a long cylindrical light pole.
"Hey, that looks pretty good," he said. "I know, right?" I said beaming. It doesn't take much.
About an hour later I had regressed. He had to show me how to wrap a piece of furniture that I had thrown a blanket over and made to look like one of the ghosts from the PacMan game – the ones that were chasing you, not the ones that were running from you when you ate the fruit.
So, here's what I took away from the last two days: This is a really hard job.
But it's not because stuff is heavy. And it's not because there's so much going on. And it's not because there's a kind of necessary organized chaos in order to figure out what goes where on the truck. And it's not because it's so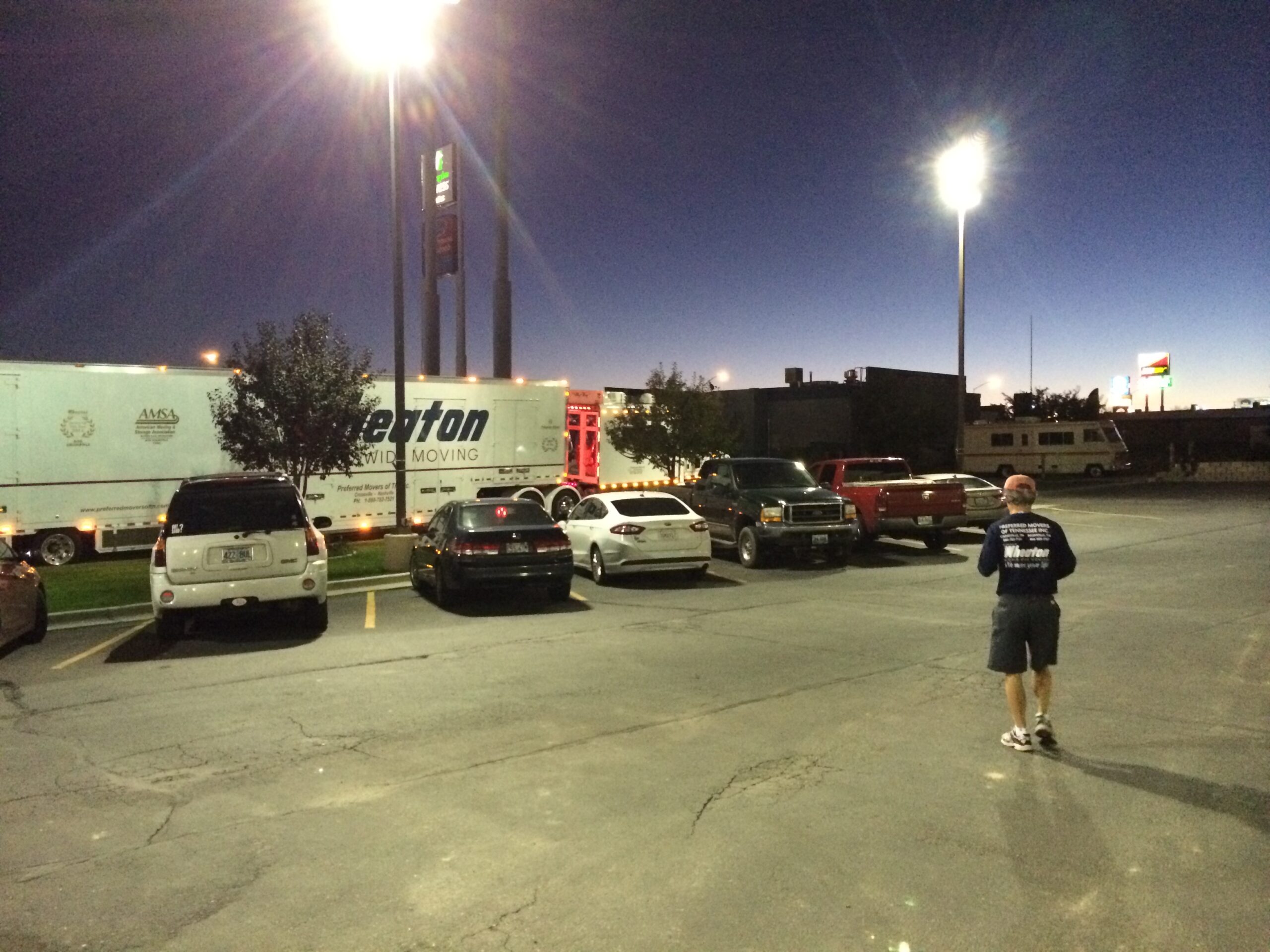 metimes dangerous. It's because of all of those things and about a thousand others. It's all of the above – and it's relentless. Prepping the house is a significant process to do well. Not-to-mention the clean-up. This is difficult work.
This will sound cliché for someone who's decided to do it for one week. But I think we can all agree it SOUNDS hard. I certainly didn't think it would be a vacation. But to see it in action and participate is an entirely different story.
I should point out that what I've described is, what Bob calls, the first quarter of a four-quarter game. The next two quarters have to do with getting the goods to destination. This became abundantly clear as we pulled into the Wyoming Port of Entry to log our entry into the state in early evening. We lined up with about 20 other trucks – at least five other household goods carriers – to get checked-in.  Each driver, paperwork in hand, ready to continue their journey through beautiful, but rugged territory to wherever they were going.
As we pulled away I was already thinking about home.
On the Road with A.J. is a blog series with Executive Vice President of Wheaton World Wide Moving, A.J. Schneider, traveling across the country with truck driver Bob Krumpols of Preferred Movers of Nashville, Tenn. He will be experiencing life on the road while assisting with everyday interstate moves.  Follow A.J.'s journey on the Wheaton World Wide Moving blog, Facebook page and Twitter page.