Last week, Wheaton World Wide Moving hosted its annual Thanksgiving lunch for its corporate staff in Indianapolis, Ind. MCL Restaurant and Bakery provided the turkey, ham and mashed potatoes, while the employees all brought a side dish and/or dessert to share. Below are some of the favorite recipes to incorporate into your Thanksgiving dinner next week.
Appetizers
Whitney's World Famous Taco Dip
1 package taco seasoning mix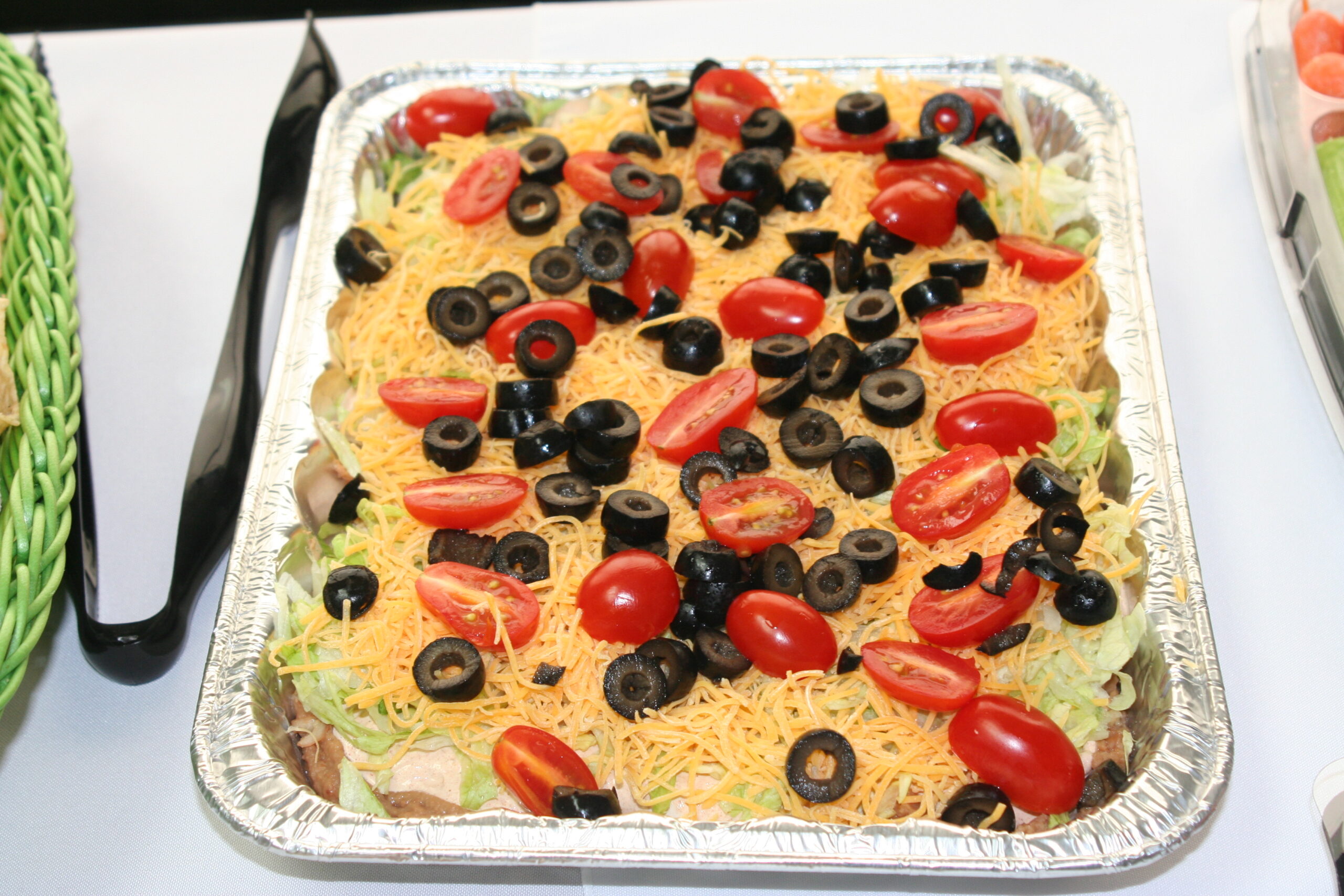 1 16 oz can refried beans
1 16 oz container sour cream
Shredded lettuce
Shredded cheese (your choice)
1 6 oz can of sliced black olives
Chopped tomato
Bag of chips for dipping
Layer starting with refried beans, then mix the taco seasoning into the sour cream and layer on top refried beans. Top it off with lettuce, cheese, tomato, black olives, and you are done!
Sides
Olivia's Sweet Potato Casserole
8-10 peeled and boiled sweet potatoes
1 cup of brown sugar
1 stick of salted butter
Bag of mini marshmallows
Chopped pecans
1) Preheat oven 350 degrees
2) Mix sweet potatoes, brown sugar and salted butter with a mixer until it is whipped and smooth
3) Top with mini marshmallows and chopped pecans
4) Bake for 30 minutes or until the marshmallows are slightly browned and melted
Karen's Mac & Cheese
2 cups uncooked macaroni
1/2 stick butter
5 cups half and half
Small amount chopped onion
Salt and pepper to taste.
Lots of shredded cheese of your choice
Five slices of cooked bacon (optional)
1. Preheat oven at 325 degrees
2. Melt butter in cake style pan
3. Layer the following: 2 cups uncooked macaroni, 5 cups half and half, cheese, onion, salt and pepper
4. The cold milk will make the dry macaroni stick to the bottom of the pan once you add the milk. Stir to loosen the macaroni from the bottom of the pan.
5. Cook for 45 min to 1 hour. Stir 2 or 3 times as it cooks. This allows the steam to escape as the cheese melts and seals the top of the dish.
6. Cut bacon into small pieces and spread across the top of the macaroni and cheese.
Brenda's Stuffing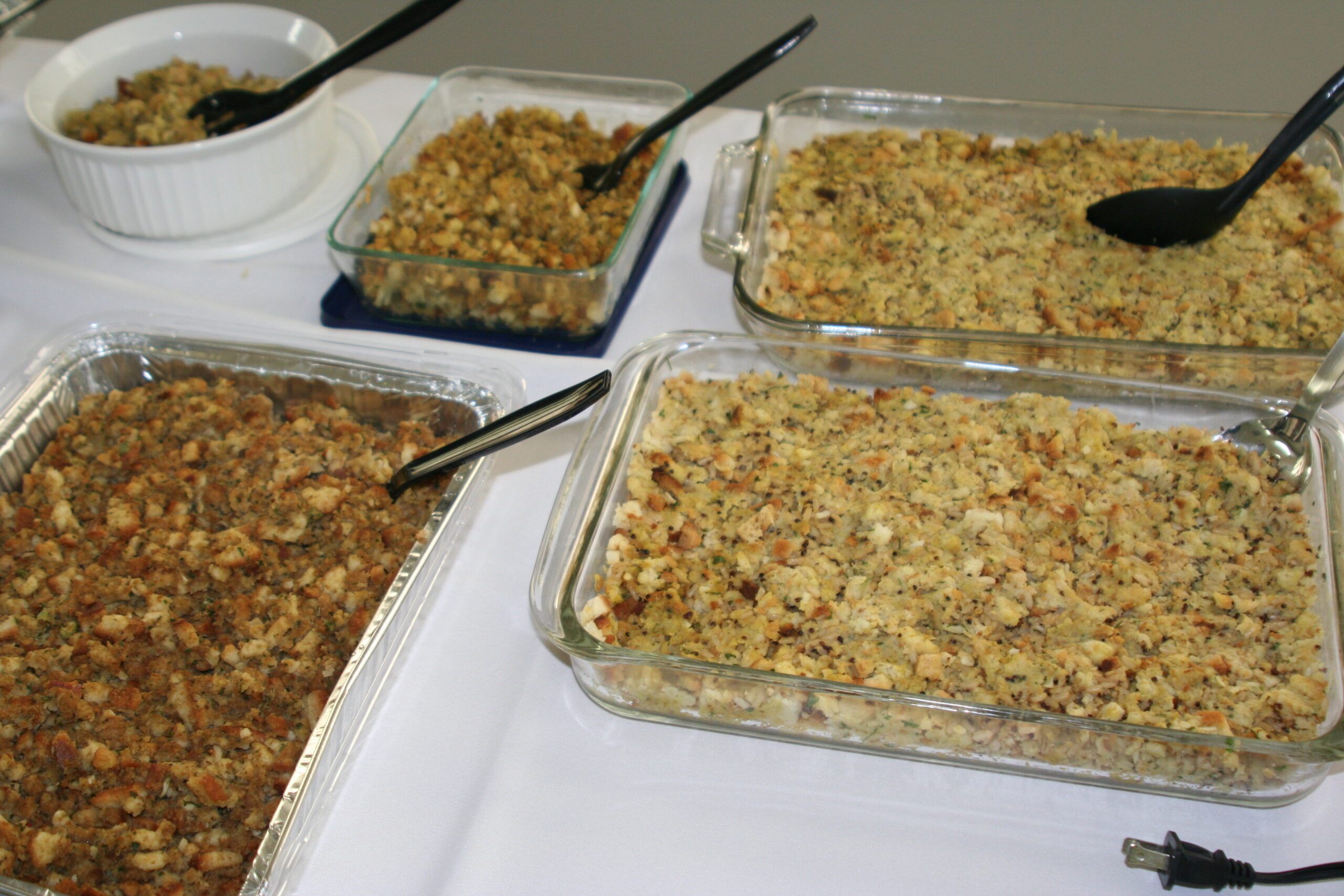 3 boxes of Stove Top dressing
1 bag of microwave rice with seasoning
1) Preheat oven at 325 degrees
2) Prepare Stove Top dressing and Rice according to directions on the box3) Place stuffing into a 9×12 pan
4) Fold cooked rice into dressing
5) Back until brown, if desired
Dessert:
Barb's Pistachio Cake
1/2 cup butter (1 stick)
1 3/4 tubes Ritz Crackers (reduced fat)
1/2 gallons vanilla bean ice cream (sugar added)
9 oz Cool Whip
2 packages instant pistachio pudding mix
Crust:  Melt butter.  Grind up Ritz crackers in a food processor.  Combine and press in the bottom of a 9×13 pan.
Filling:  Combine softened ice cream, cool whip, and dry pudding mix together.  Spread on top of crust.
Freeze for at least 8 hours
Luann's Pumpkin Rolls
Cake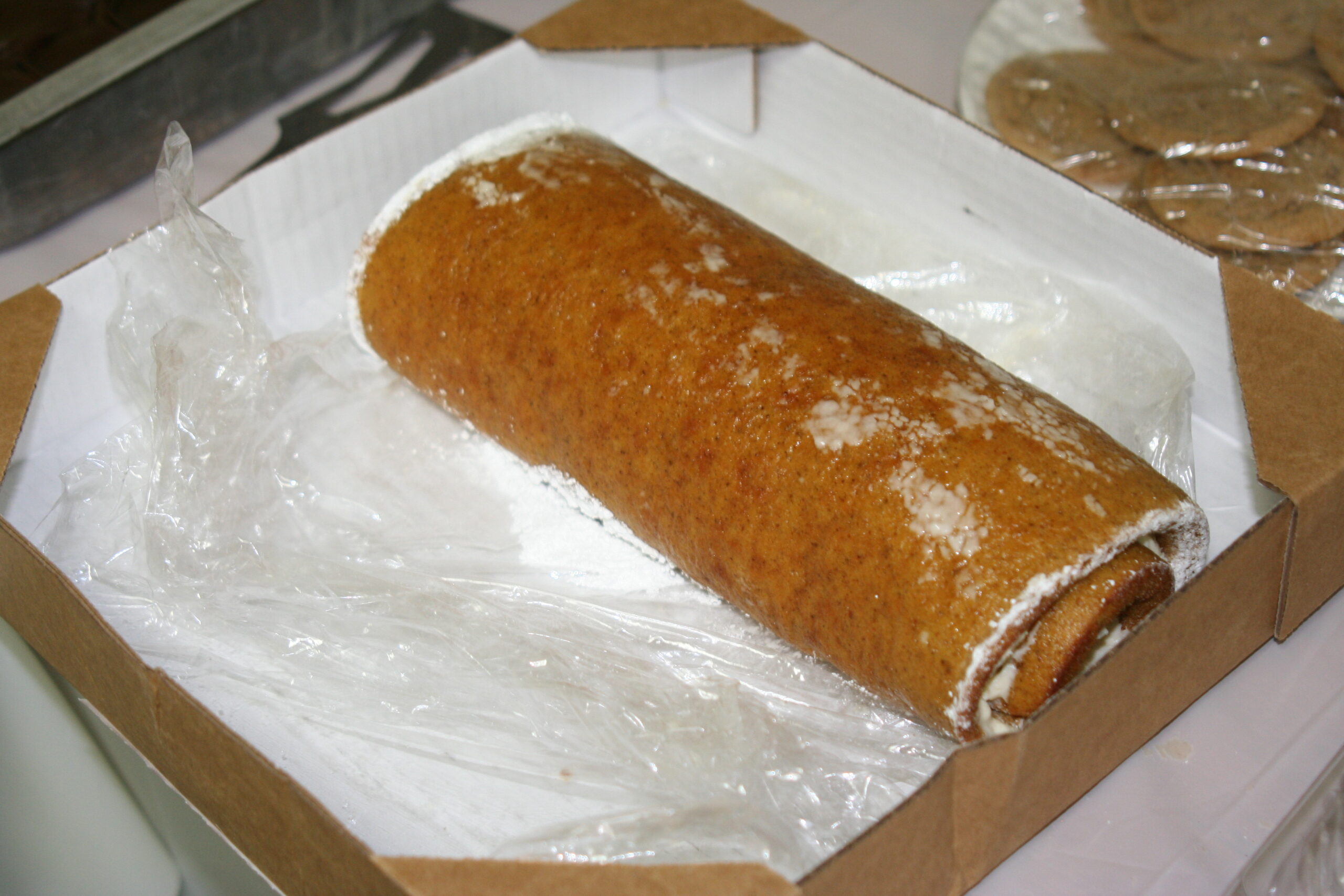 Powdered sugar
3/4 cup all-purpose flour
1/2 teaspoon baking powder
1/2 teaspoon baking soda
1/2 teaspoon ground cinnamon
1/2 teaspoon ground cloves
1/4 teaspoon salt
3 eggs
1 cup sugar
2/3 cup Pure Pumpkin
1 cup chopped walnuts, if desired
Filling
1 (8-ounce) package cream cheese, softened
1 cup sifted powdered sugar
6 tablespoons butter, softened
1 teaspoon vanilla
1) Heat oven to 375°F.
2) Grease 15x10x1-inch jelly-roll pan; line with parchment or waxed paper. Grease and flour paper; set aside.
3) Use clean thin, cotton kitchen towel on counter; sprinkle with powdered sugar.
4) Combine flour, baking powder, baking soda, cinnamon, cloves and salt in small bowl.
3) In a  large bowl, combine eggs and sugar; beat until thickened. Add pumpkin; beat until well mixed. Stir in flour mixture.
4) Spread batter evenly into prepared pan. Sprinkle with walnuts, if desired.
5) Bake for 13 to 15 minutes or until center springs back when lightly touched. Immediately loosen cake from edges of pan; invert onto prepared towel. Remove pan; carefully peel off paper. Roll up cake in towel while hot,  Cool completely on wire rack.
6) Beat cream cheese, 1 cup powdered sugar, softened butter and vanilla in small bowl until smooth. Carefully unroll cake; remove towel. Spread cream cheese mixture over cake. Reroll cake.
7) Wrap in plastic food wrap; refrigerate at least one hour. Sprinkle with powdered sugar before serving, if desired.
Stephanie's Pumpkin Bars
1 (18 oz) box of yellow cake mix
1/2 cup of butter, melted
13 ounces pumpkin butter (specifically 1 13-oz jar of pumpkin pecan butter from Williams & Sonoma)
3 eggs
1 tablespoon of flour
1/4 cup of sugar
1/4 cup of butter, softened
3 tablespoons of milk
1 teaspoon of cinnamon
1) Preheat oven to 350
2) Reserve 1 cup of cake mix and set aside
3) Mix remaining cake with a 1/2 cup of melted butter and 1 egg. Press mixture lightly into the bottom of a 13×9 baking dish
4) Mix one jar of pumpkin pecan butter with remaining two eggs and milk and pour over cake mixture in pan
5) Mix remaining 1 cup cake mix with flour, sugar, remaining 1/4 cup butter, and cinnamon, and crumble of the top of the pumpkin layer
6) Bake 35-40 minutes, or until golden
7) Cool to room temp and serve.
Some more photos from the Thanksgiving Pitch In:
What are some of your favorite Thanksgiving recipes? Post them below!