Moving when pregnant isn't ideal. The packing and walking involved in the moving process may lead to painful back aches and swollen ankles.
Although it won't be a walk in the park, you can still move while pregnant. If you plan for the moving day thoroughly, you can avoid the stress and body pains. Use these tips below to plan for a smooth, stress-free move for you and the baby.
Find a New Doctor
You may find that your new home is too far away to continue visiting your current doctor. A few weeks before you move, find a new doctor in your new area. Do your best to find a new healthcare provider similar to your previous doctor. You can ask your doctor for healthcare providers that they would recommend.
Once you find your new doctor, call his or her office to book your first appointment. You will need to take copies of your prenatal file and medical records to your new doctor, so make sure you get these from your old hospital before you move away.
Organize Important Documents
You should know where your important documents are at all times and have them available in case of an emergency. Pack them in an overnight bag that you plan to keep with you. These documents may include:
Birth certificates
Social Security cards
Homeowners insurance
Health insurance
Closing papers
Immunization records
Pack a 3-Day Bag
Many pregnant women find they have a few items they can't live without. Whether you prefer a body pillow or a specific snack, keep a few needed objects with you during the move. You may also want to include lotion, food, and comfort items in your bag.
Pack enough items to last you at least three days.
You will find these items will bring comfort and reduce stress while you're between houses. Having needed items on-hand will also save you from frantically searching through boxes to try and find your favorite lotion at the last second.
Arrange Childcare
If you have children and you're pregnant, arrange childcare for the days while you're moving. Once you start packing for the move, life will get even more hectic, and you may not have time to call someone. You can save yourself a fair amount of stress by having a babysitter come watch your kids while you focus on packing and organizing.
A babysitter ready may also come in handy if your baby comes before his or her due date. Make sure you start researching babysitters in that area well before the move. Arranging childcare in advance will reduce stress and give you enough time to interview plenty of babysitters.
Take Care of Yourself
If your family or friends o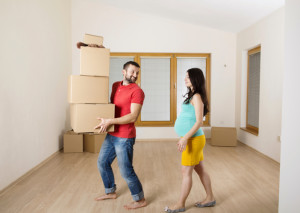 ffer to help during your move, don't hesitate to say yes. Although you may not ask for help very often, moving while pregnant should be your one exception. Your main goal should be to take care of yourself and the baby. Stay as relaxed and stress-free as possible. Your physical and emotional state can have a huge impact on your pregnancy, so take care of yourself during the moving period.
Get plenty of sleep and stay out of extreme temperatures. Take breaks from packing and drink plenty of water. Never exhaust yourself. You may also want to try eating citrus fruits to enhance your strength and energy. Schedule naps and go for relaxing walks. Plan extra time to regain your physical and mental energy.
Hire Out
No matter how much rest you get or how well you take care of yourself, you should never lift heavy objects during pregnancy.
For a safe pregnancy, consider hiring a moving company to pack and take away your home items. A moving company will keep your baby safe and reduce pressure.
These tips will help you and your baby have a stress-free move. If you feel well enough, you can try to help with the move more, but always pay attention to your body and never overwork yourself.