Your IT department might not generate a direct revenue stream, but your revenue stream depends on your IT crew. As you plan your commercial office relocation, make it a priority to develop an organized, well-managed relocation plan for your computers, routers, servers and other delicate equipment.
Support your IT staff during the move to minimize computer, connectivity, communication and data issues. Don't let IT department problems be a casualty of your move. Here's a breakdown of the three most important ways to show your support.
1. Create a Budget for the Move
Many companies make the mistake of scrimping on their IT allocations. These owners view IT spending the same way they view bathroom soap and business cards – as operating costs rather than infrastructure investment. Think of your move as an opportunity to improve your IT department along with all the other aspects of your business.
During a commercial relocation, revise this policy to ensure a successful transition to your new site. Provide funding for the following IT tasks so your team can be operational as quickly as possible:
IT inventory and breakdown
Moving and packing supplies
New IT site-plan creation
New site inspection, measuring and testing
Proper racks, cables and infrastructure
Rack and cabling installation
Specialty moving fees
When your IT staff is tasked with the huge job of not only breaking down but also recreating your data and internet systems, chances are more expenses will arise. You might need to pay overtime to qualified employees who work late hours on this project. Prepare for these and other unexpected costs to minimize the impact they have on your company.
By properly funding your IT department during the move, you give staff the resources they need to minimize downtime of your sensitive operations. Your IT equipment will be safer, more secure and hopefully ready for operations when it is installed at its new site.
2. Allow Time to Pack Delicate Equipment
IT equipment requires additional care and preparation when you move your business. Box and stack files and desks; however, computers and cables require special attention.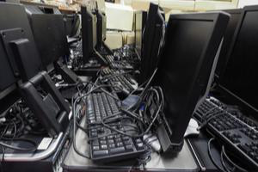 Sensitive IT components must be carefully dismantled and cushioned for a move. Servers, routers and other electronics should never be exposed to temperature extremes or rough handling. Carefully wrap and label your cables. An office relocation specialist like Wheaton can assist in this area.
The physical process of moving your IT rooms is only one area of the relocation experience where thoughtless speed will cost you. If you don't offer your IT staff the time for proper planning and execution during your move, expect more tech conflicts and downtime in the new location.
Time-support for IT staff should include:
Advance notice of move
Backup of necessary data and hardware
Flexibility in daily operations
Advance notice of new providers
Drawdown phase operations
Validation, troubleshooting and testing
Manage time well by ordering your new broadband or other internet services well in advance of your move. In some locations, there are long wait times for internet connections in commercial districts.
Connect and power your new site two months or more in advance of the move. This gives your IT staff ample time to ensure the reliability of your Wi-Fi connection, speed and system security.
3. Get the Right Tools for the Job
Consider what tools you'll need as you evaluate how to move your business to another state or location. Your IT team will need the proper instruments to dismantle and reconstruct your network or data center. As part of their planning, the team should create a list of hand tools, specialty software and other supplies to facilitate a smooth, secure move.
The inventory process is an important part of moving your racks of gear. Add every single component of your system to an inventory before packing them. Inventory databases should include:
Serial numbers
Make and model of components
Associated data, applications and users
Dependencies and support information
Location on racks and cabinets
RFID chip information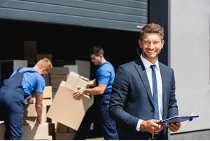 Update Your Inventory
A proper inventory can save you moving expenses by allowing the IT staff to discard unused and redundant components. Unneeded but usable components can be wiped clean of data and sold for metal, donated to a non-profit or sold as usable IT equipment to a start-up.
It may be easier to move components where they are rather than breaking down your IT configurations. If you plan to move components on the racks, your IT staff should check both the static and dynamic load ratings of all equipment carts and racks.
How to Move Components on Racks
You can load racks up to the static-rating threshold when the racks are perfectly still. The dynamic rating indicates the maximum capacity of racks when they're rolling or being moved. Racks that are loaded over the dynamic limit should be reconfigured so they don't tip over during the relocation. Otherwise, purchase new racks to avoid accidents or injury to people and equipment.
If your IT employees don't have the tools or experience to handle your intricate cabling needs, hire a professional cable installation company to complete this step in your new location. A fresh, neatly organized cable setup gets your new site off to a great start and frees your IT staff to focus on staff communication and connection needs.
4. Hire the Right Moving Company
Contact Wheaton World Wide Moving today to schedule professional relocation of your sensitive IT equipment. We offer office relocation services through local agents across the country. Our crews have conditioned trucks and plenty of experience moving fragile data center components, so your commercial move is worry-free for all departments.