Since 2014, Wheaton World Wide Moving has been involved with
Loyalty360
, the unbiased, objective, and market-driven group that seeks to enable and encourage dialogue on customer loyalty among industry leaders. Wheaton has been a member of the organization since 2016, solidifying the van line's mission of putting the customer first through employee engagement.
Industry Difference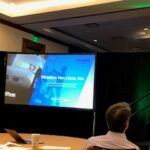 At the 2019 Loyalty360 Customer Expo, Wheaton's executive vice president, A.J. Schneider, presented to attendees at the Customer Expo, sharing the evolution of the van line's commitment to customer-centric service. In 2014, the company honed in on measurement practices to determine the likelihood that a customer will recommend the company. The next step was figuring out what elements of the moving company's service increased that likelihood of recommendation.
"We don't have the luxury of frequency-of-purchase," Schneider said. "We can't simply replace their coffee if we get it wrong or give them a coupon for a free one the next day. For us, our customer experience – the warmth and competence we show to our customers – is our customer loyalty program."
Van line edges out Caesars, Ford for 1st place
Wheaton World Wide Moving won first prize in the association for customer loyalty's Employee Engagement category, a bracket shared by such contenders as Caesars Entertainment and The Leading Hotels of the World.
Wheaton accepted the Customer Award from Loyalty360 CEO Mark Johnson at the awards ceremony downtown on November 13.
contact
Wheaton World Wide Moving is located at 8010 Castleton Dr. in Indianapolis, Ind. The company can be reached at 800-932-7799, 317-849-7900, or online at www.wheatonworldwide.lndo.site.