If you're moving in October… with kids… the topic of Halloween has probably come up at least once or twice. It can be tricky to focus on making your move go smoothly when your kids are focused on pumpkins, goblins, ghouls and candy!
Believe it or not, you can have both: a successful Halloween full of trick or treating and spooky costumes and a scare-free move. To help you leave all things frightening to the night of Halloween, we've put together 10 tips on how to celebrate Halloween in your new home:
10 Tips on Celebrating Halloween in Your New Home
To make sure your holiday is spooky but your relocation isn't, follow the moving and halloween tips below:
1. Try not to schedule your move too close to Halloween
If possible, schedule your move for at least 2 days before Halloween. This tip takes some preparation and planning, but if you can, work with your moving company to relocate before the spooky day arrives. Keep an eye on the delivery spread – if Halloween falls in the middle of the spread, it's extra important to make sure you have anything with you that you need to celebrate.
2. Get Ready for Halloween Before You Move
Before you pack up and relocate, make sure you have decor, costumes and plans figured out. This way, you don't have to worry about the logistics when you get to your new home. All you need to do is unpack, decorate, get dressed and have fun!
3. Pack Your Halloween Decor and Costumes in Their Own Box
Don't pack your costumes in the same box as your everyday clothes; don't pack your Halloween decor with the rest of your home goods. Put your Halloween items in their own separate box and label them for easy access. Keep the kids busy by letting them decorate the outside of the Halloween box with stickers and drawings of spooks.
If you have room in your car, we suggest taking at least the costumes with you instead of putting them on the moving truck. That way if schedules change, you won't have to worry about trick-or-treating without your costumes! (Even though we're sure you're creative enough to trick-or-treat anyway and tell people you're dressed as "the new neighbors!")
4. Wait to Buy Candy Until You Get to Your Final Destination
You want to move with the least amount of clutter possible. That's why you should wait to buy Halloween candy until you get to your new home. You don't want the candy to melt or get squashed during the relocation. Plus, waiting until you arrive will give you a chance to check out the local grocery store!
5. Focus on Fun
It may be tempting to drop everything Halloween related and skip right to the unpacking. However, on the night of Halloween, focus on trick or treating, dressing up, watching scary movies and whatever else puts you and your kids in the spooky spirit! Unpacking can wait until November 1st.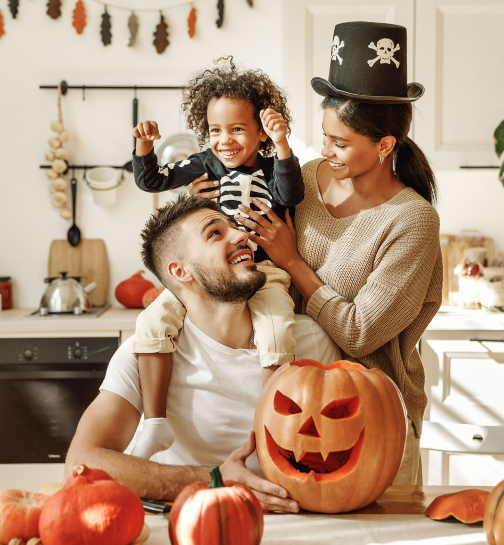 6. Decorate and Carve Pumpkins
Decorating your house and carving pumpkins is a great way to get into the Halloween spirit and spend quality time with your family in your new home. Plus, if you haven't had time to unpack, it'll feel extra spooky if the only decor in your house are fake cobwebs, ghosts, skeletons and pumpkins. Bonus points if you brought your black cat to the new home with you!
7. Take Time to Explore Your New Neighborhood
Whether you're trick or treating with your kids or taking a beautiful fall walk through your new neighborhood, Halloween gives you the perfect excuse to explore the area and meet your neighbors. What other time of year is it super acceptable for you to knock on every door?! Just make sure you take the extra few seconds to introduce yourself and let your neighbors know you just moved into the neighborhood.
You can also take this opportunity to explore the community! Many community organizations host trunk-or-treat celebrations or festive movie showings for kids around Halloween. The best part? Aside from giving you the chance to get to know these organizations and meet new people, these events are also usually free!
8. Hand Out Candy
If you're not taking your kids trick or treating, you can still meet your new neighbors… just let them come to you! Make sure your lights are turned on, you have a few decorations up and you have a bowl of candy at the ready. As kids come to your house, be sure to introduce yourself to their parents.
If you don't want the parents seeing all the unpacked boxes in your new home from the front door, you could – weather permitting – set up a fire-pit alongside the candy bowl at the end of your driveway to give you plenty of chatting time with trick-or-treaters without worrying about the state of your new home.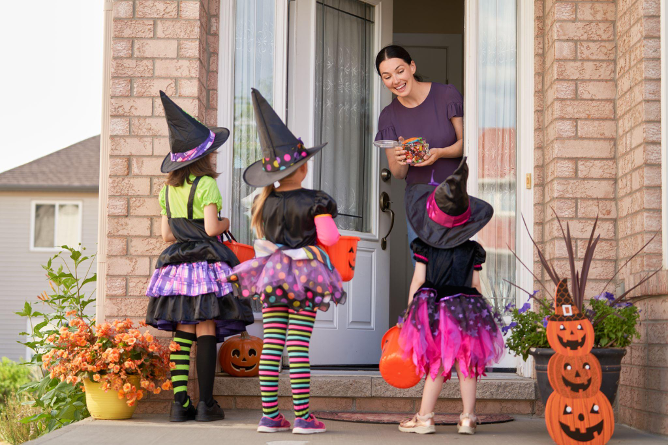 9. Have a Scary Movie Night
Pick out a few spooky movies, grab blankets and pillows and make a bowl of popcorn. Snuggling up in your new living room with some snacks and a scary film is a great way to celebrate the holiday and christen your home.
10. Make Memories. Take Photos.
Once the whole family is in their costumes and you've got the Halloween decor up, gather everyone together for a photo… or several. Make sure to take a few goofy pics, too! This is the first holiday in your new home—it's important to cherish the moment! As you pause for a photo, reflect on all the hard work you put in to get you where you are.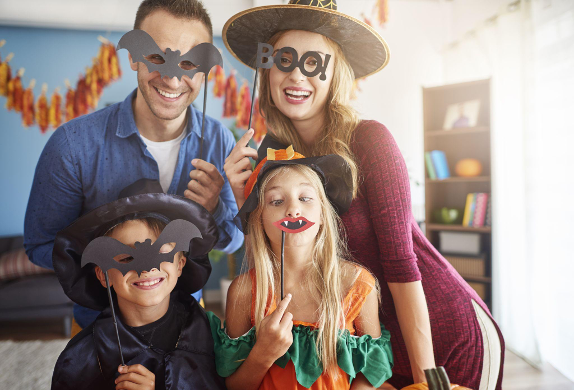 Have a Spook-Free Move with Wheaton World Wide!
The scariest thing about your October move should be the ghouls, goblins and ghosts! The experts at Wheaton World Wide are here to make your move as hassle-free as possible. For more moving tips and tricks, check out the rest of our blog! Or, if you're ready to get started with your move, contact us today!