The end of the year is near – but that's not a sad thing. The end of the year means that we get to reflect on all the great and fun things we've done throughout 2021 and make resolutions for 2022!
While 2021 was different from times before COVID-19, we are proud to say our van line persevered. From virtual conferences to truck pulls and fundraisers, Wheaton World Wide Moving did a lot this year. Let's dive into our activities!
JANUARY
In January, we kicked off the year by announcing our Agent of the Year. Each of these teams rose above the bar in 2020 and provided excellent customer service and communication.
The 2020 Wheaton World Wide Moving Agent of the Year was Lake Country Moving & Storage in Waterloo, NY. Lake Country has been a Wheaton agent since 2001 and has won several awards during their time with the van line, including Agent of the Month (October 2019), 2020 Spire Award for quality, 2020 Top 10 National Accounts award, 2020 Bronze Hauling award and 2020 Silver Sales award.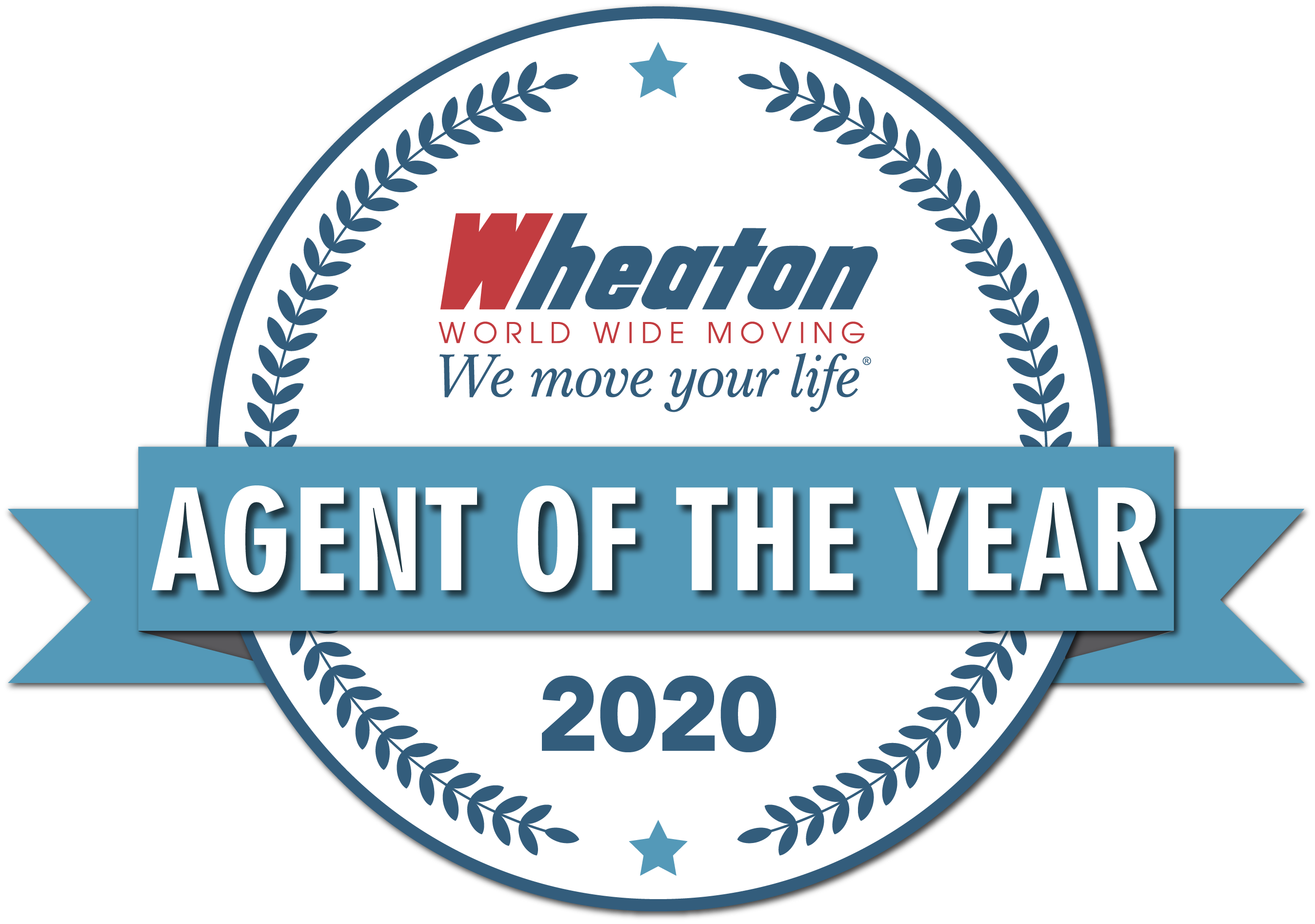 In addition to naming the Agent of the Year for our brand, we also named Drivers of the Year. These drivers go above and beyond their required line of duty. The 2020 Drivers of the Year are Joseph Estrada of Olympic Moving & Storage III in Lakewood, Wash., and Scott Knight of White Knight Transport Services, LLC in Monmouth, Ore.
Our drivers are the faces that customers see during one of the most stressful parts of their lives. Drivers are the linchpin of our success, and we owe them all a debt of gratitude for the hard work they perform and the professional way they do so. Thank you to all our drivers and especially our driver of the year! 
January 2021 Agent of the Month: Sopko Moving & Storage, Inc., of Manville, N.J.
FEBRUARY 
February was a big month for our van line. We hosted our Van Line Summit and Awards Gala. The catch this year is that it was virtual. This gave us the opportunity to grow on many levels. From editing on-demand videos to virtual networking events, the Van Line Summit and Awards Gala was no easy feat.

The conference had 306 overall attendees attending the 10 live sessions, 9 recordings and 19 on-demand videos. Overall, the gala was a huge success!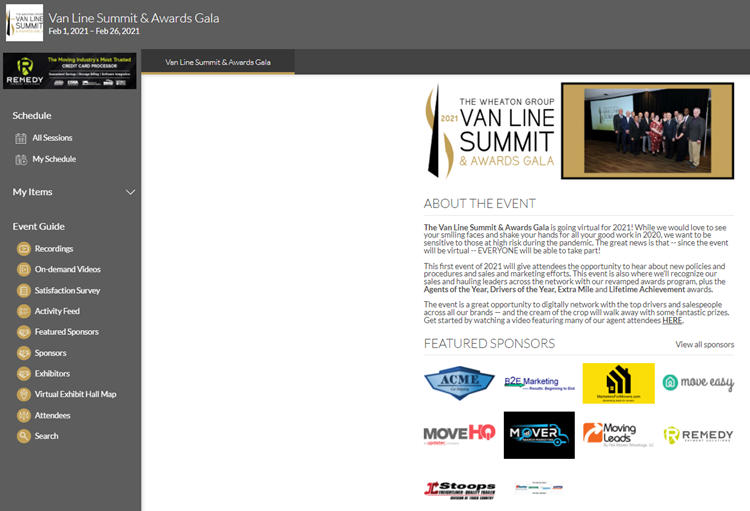 While February was a big deal for the van line, it was also a big deal for David Witzerman, former van line president. Witzerman and Move for Hunger founder, Adam Lowy, had a conversation with Archive Storycorps. This podcast covers memories of when they started Move for Hunger, the impact Dave had on the organization and the impact Move For Hunger has today.  
February 2021 Agent of the Month: Perry Moving & Storage, Inc., of Hanover, Md.
MARCH
Each year during March, people all over the country celebrate Women's History Month. This year, the van line decided to focus on women drivers and femmes that move us. Drivers highlighted include: Gloria Pugh, Ambar A. Gonzolez, Heather Maiden and Sharon Dietrich.
In an industry people think of as driven by men, we're proud of the women leaders, drivers, managers and salespeople who add so much value to our network. Each of them makes daily strides to push the moving and trucking industry to be inclusive, while providing a different perspective on issues, policies and more. Find more on these women in our Women's History Month blog.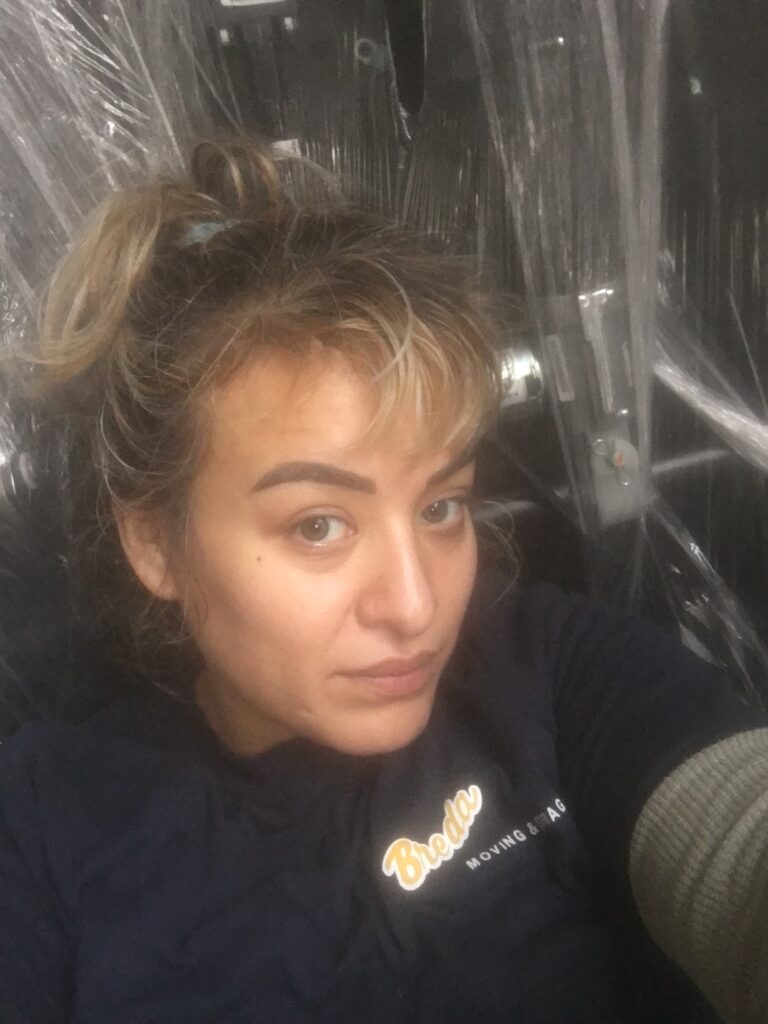 March 2021 Agent of the Month: Breda Moving Co., Inc., of Roselle, Ill.
---
APRIL
Our van line network stretches across the entire continental US, including moving companies from sea to shining sea, so its members don't see each other face to face very often. For almost 60 years, the van line has invited all our agent partners to an in-person partnership conference, meant to inspire networking and synergy in the group. 2020 derailed that annual meeting, but we planned 2021 to be our chance to get agents mingling without screens in the way.
We plan these meetings out well in advance, so we had already chosen our hotel base for the October Partnership Conference. That said, in April we were planning a brand-new event to take place during the conference: our first ever truck pull fundraiser. If you've never seen or participated in a truck pull before, it's an event during which teams of 7-10 grab a massive rope that is attached to the front of a moving truck and pull it 100 feet across the finish line. It takes a large area to host such an event
If you've ever visited downtown Nashville, Tenn., you'll know space there is at a premium. Our marketing director toured the hotel and surrounding areas and landed on the parking lot of Titans home, Nissan Stadium, as the best place to hold the truck pull.
April 2021 Agent of the Month: Turner Moving & Storage, Napa, Calif.
MAY
May is National Moving Month – and what better way to celebrate than with peak season! Each year in May, the weather is nice, so the busiest part of the year for moving companies begins as people are leaving universities, getting new jobs and moving across the country. Each step of the way, we're there for our customers.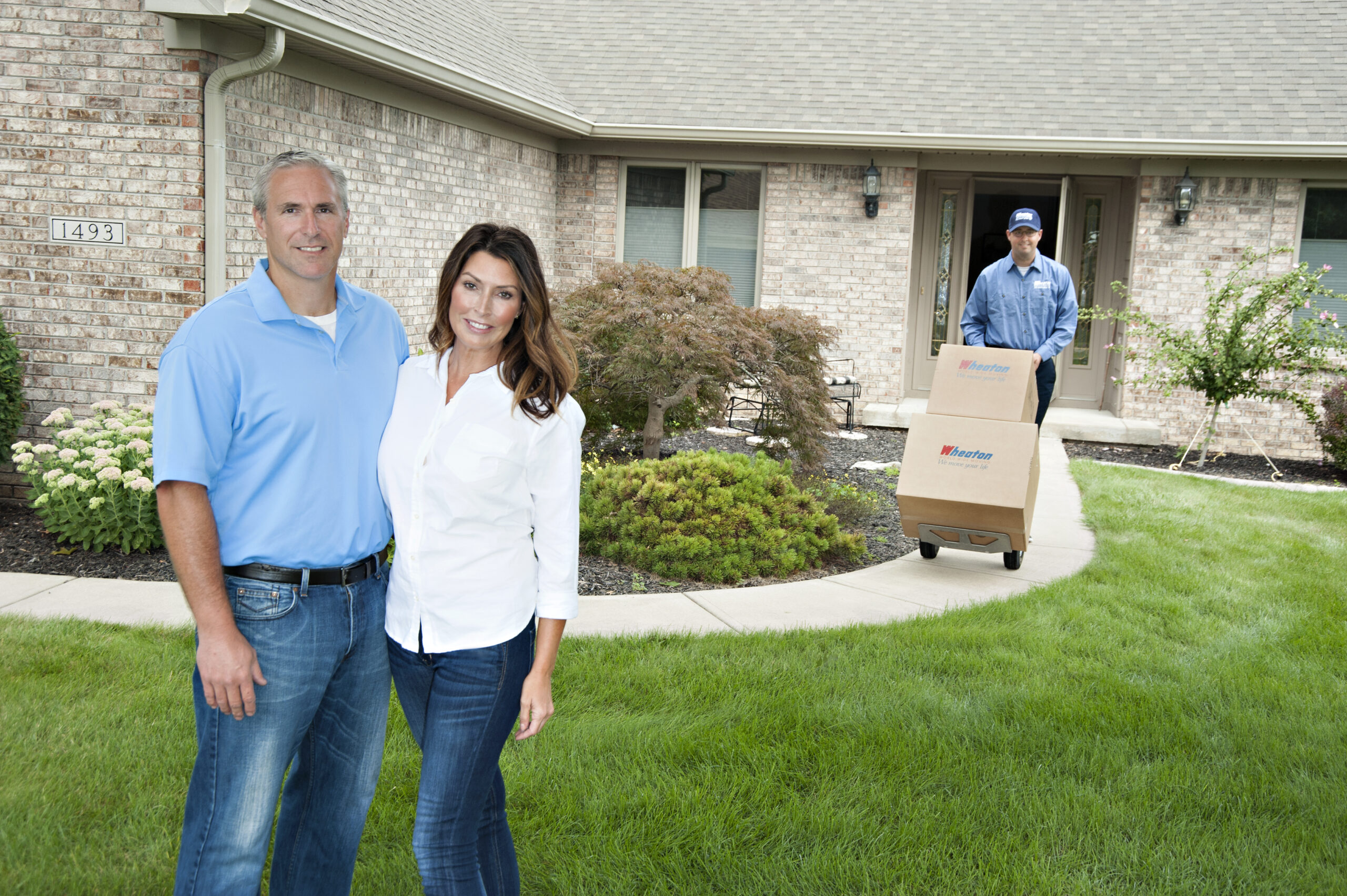 May 2021 Agent of the Month: Olympia Moving & Storage, Boston, D.C., Philadelphia & Austin
JUNE
While May was all work and no play, in June, several volunteers from the corporate van line office gathered at the convention center to volunteer for Give Kids the World (GKTW) Village during the Sweets and Snacks Expo.
At the end of the expo, volunteers went around with large box containers collecting untouched, nonperishable snacks to transport to GKTW. We sent two refrigerated trucks and two regular trucks down to Kissimmee, Fla., to deliver the goods to the nonprofit resort that hosts children with critical illnesses and their families for weeklong, cost-free vacations.
Every week, the families visiting the Village celebrate Halloween with a candy parade, so the yummy goodies from the Sweets and Snacks Expo make a LOT of children very happy!
Be sure to check out these fun photos from the event.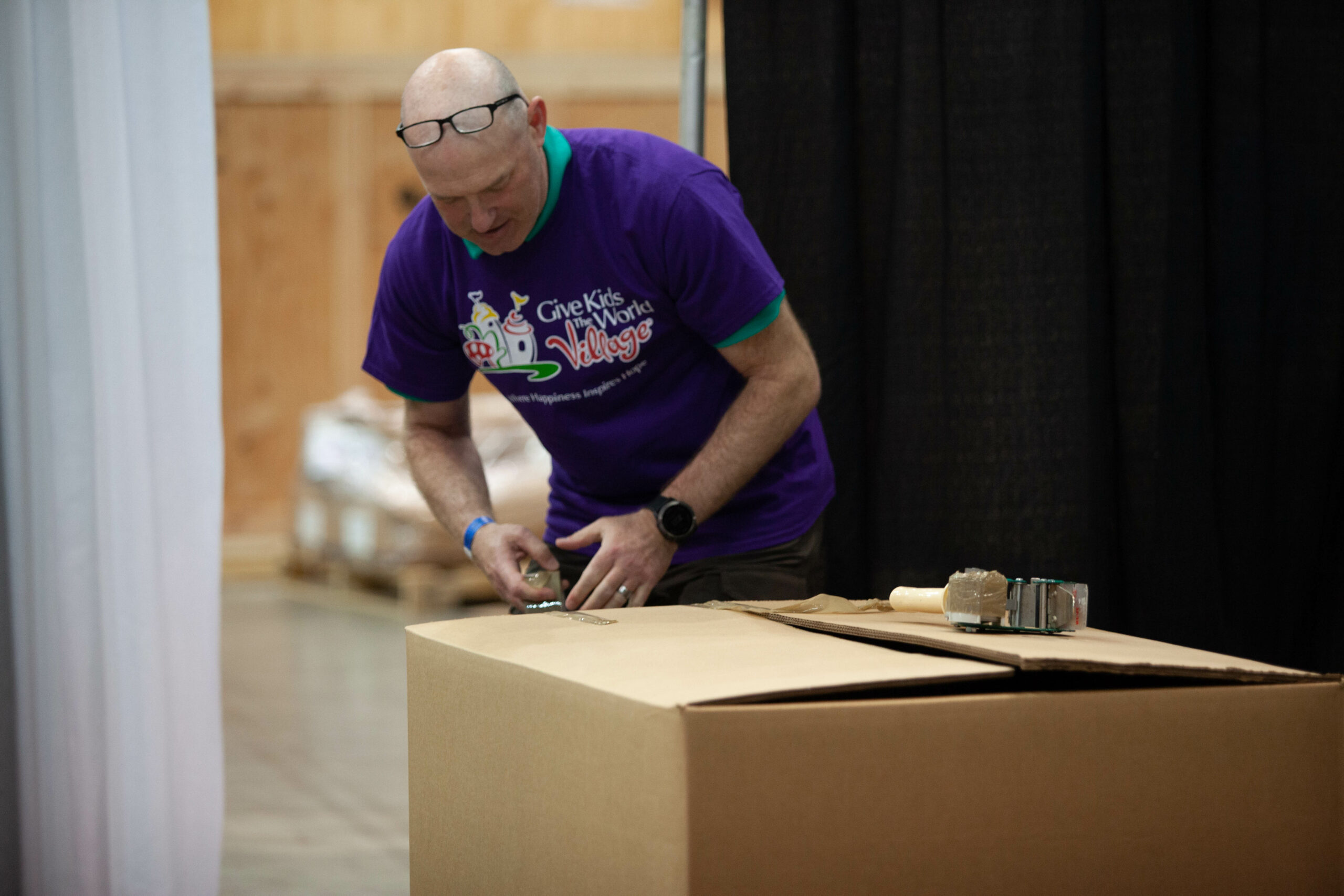 June 2021 Agent of the Month: Preferred Movers of TN, Inc., Crossville, Tenn.
JULY
The busy season continues. We celebrated National Workaholics Day by completing 631 moves this month. We ended the month with an on-time delivery rate of 93.6% – a huge feat in our industry, especially with the driver and labor shortage!
July 2021 Agent of the Month: Capital City Transfer, Inc., Verona, Wis.
AUGUST
It's back to school time! In August we were busy moving students back into dorms and apartments near universities across the country. Did you know we have contracts with dozens of universities? University faculty and staff often use our company when moving to a new workplace. We love students and university workers!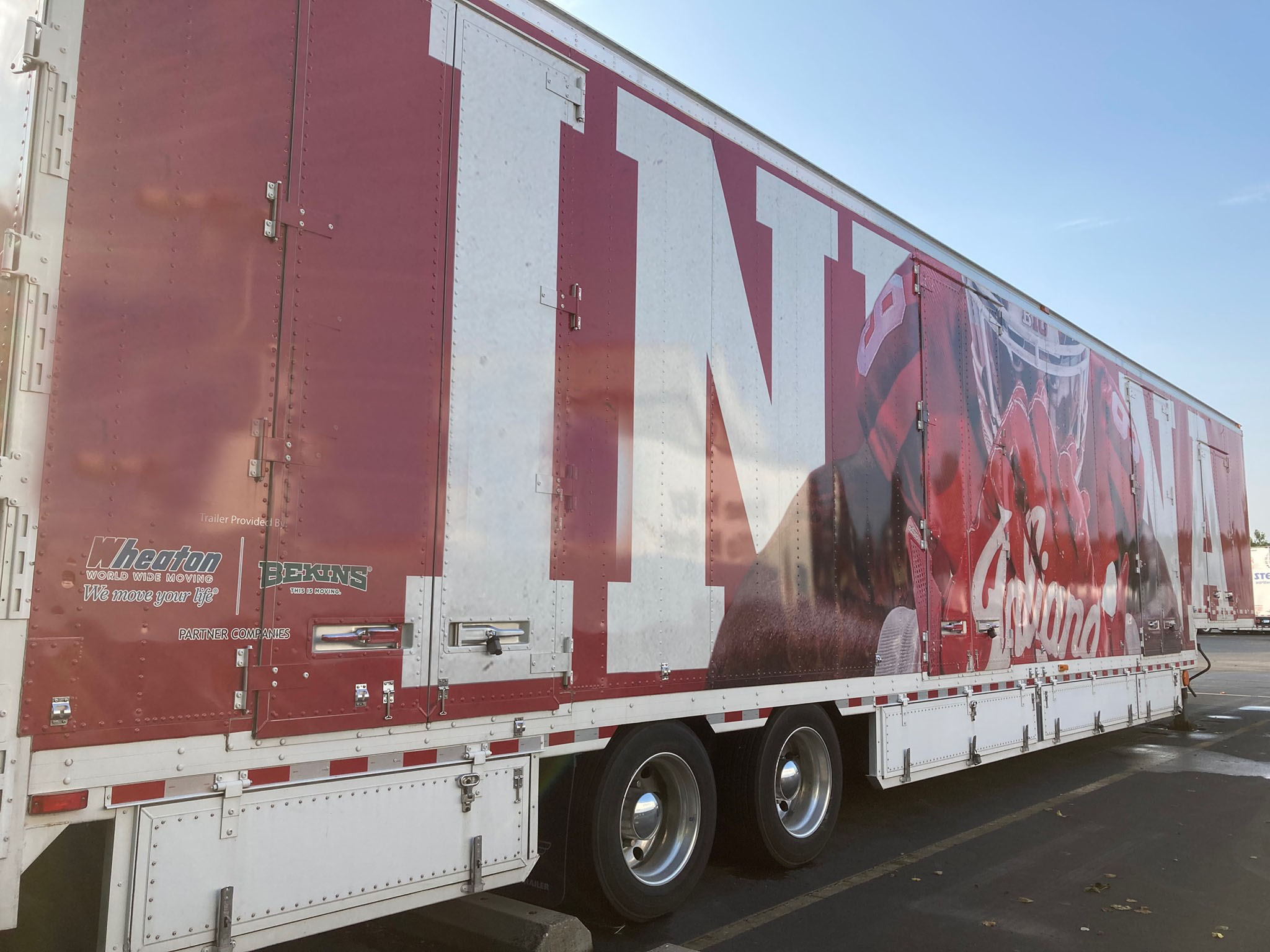 August 2021 Agent of the Month: O'Neill Transfer & Storage Co., Inc., Beaverton, Ore.
SEPTEMBER
Dear drivers: We love you!
During September, American Trucking Association celebrated National Truck Driver Appreciation Week with appreciation events across the country. Our van line agents treated drivers to fist bumps, meals, welcome signage, coffee, facilities and so much more.
Here at the corporate headquarters in Indianapolis, Ind., we treat all drivers who stop by to our Bunkhouse, which is recently renovated with all new bedroom furniture and a brand-new espresso bar, plus outfitted with a great media room and plenty of shower space. Our direct lease drivers received a box of goodies, with lots of branded items to hopefully make their drives more comfortable.
Our drivers are the backbone of our organization and without them, we wouldn't be able to make moves happen. We're grateful for each and every one of our drivers, as they go above and beyond the call of action to ensure our customers' moves go smoothly.
Please help us the next time you see a truck driver at a truck stop by thanking them for tirelessly moving the items you need in your home.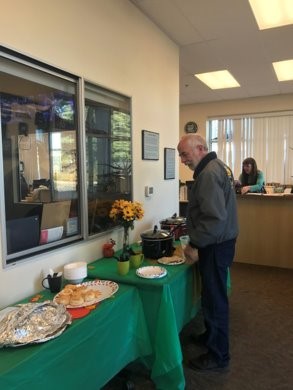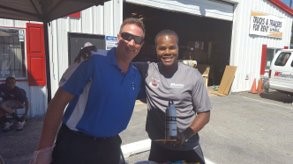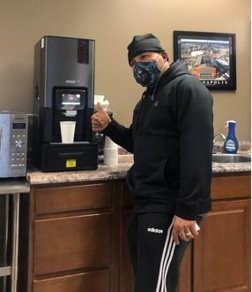 September 2021 Agent of the Month: Rainbow Moving & Storage, Waldorf, Md.
OCTOBER
October brings us to our Partnership Conference in Nashville, Tenn. It was our first time since February 2020 to bring together members of our van line network.
This in-person get-together is a great opportunity for our agents to learn from corporate regarding things such as marketing, operations items and more. But that's not all. In addition to educational endeavors, we have plenty of networking time and fun.
This year, we welcomed award-winning songwriters James Dean Hicks, Karen Staley and Billy Montana to perform for us, then lead us in a song-writing contest. The three teams each chose a well-known song and wrote their own lyrics with moving as the theme. Listen in here:
On the last day of conference, we hosted our long-planned-for truck pull, raising $20,000 for Give Kids The World (GKTW) Village and Move For Hunger. The truck pull featured 16 teams of roughly 7 to 10. Each team pulled a straight truck with a large rope, competing for which team could pull the truck the furthest, the fastest. The team sponsored by Olympia Moving & Storage came out on top, with the Travel Centers of America team snagging the first runner-up spot. Thank you to all our sponsors and participants! 
October 2021 Agent of the Month: Quality Moving & Storage, Bohemia, N.Y.
NOVEMBER
Our agency development department hosted Sales Training in Fishers, Ind., this year in November. Salespeople from across the network met to gain knowledge, communication skills and Service Excellence Training. The event, led by Kelly Rynearson, is a great way for our van line's salespeople to sharpen their skills so they can better assist customers, give more accurate quotes and learn best practices from their peers.
That said, November wasn't purely educational.
We all know holiday season starts with Halloween, but the Tuesday after Thanksgiving is our favorite of holidays – Giving Tuesday.
Giving Tuesday is the largest day of donations for just about every non-profit in America. Millions of people participate, and several corporations match donations to a certain dollar amount. It's said to be the "global generosity movement, unleashing the power of people and organizations to transform their communities and the world."
For more than 25 years, the van line has partnered with Give Kids The World (GKTW) Village to provide a horse-riding attraction for children of all abilities at the nonprofit resort. For Giving Tuesday, we challenged our agents across the country to raise $25,000 for our non-profit partner, promising to match that amount. Spoiler alert: they came through!
They didn't stop at $25,000, though. Our agency network donated $26,125.40, so with the van line's $25,000 match, we raised $51,125.40 for GKTW through our Giving Tuesday campaign.
Thank you to all those who support GKTW, and if you haven't heard about the charity before, check them out at gktw.org. You might even be able to snag a ticket to the Night of A Million Lights, a holiday light show taking place at the Village from November through January, to see it for yourself.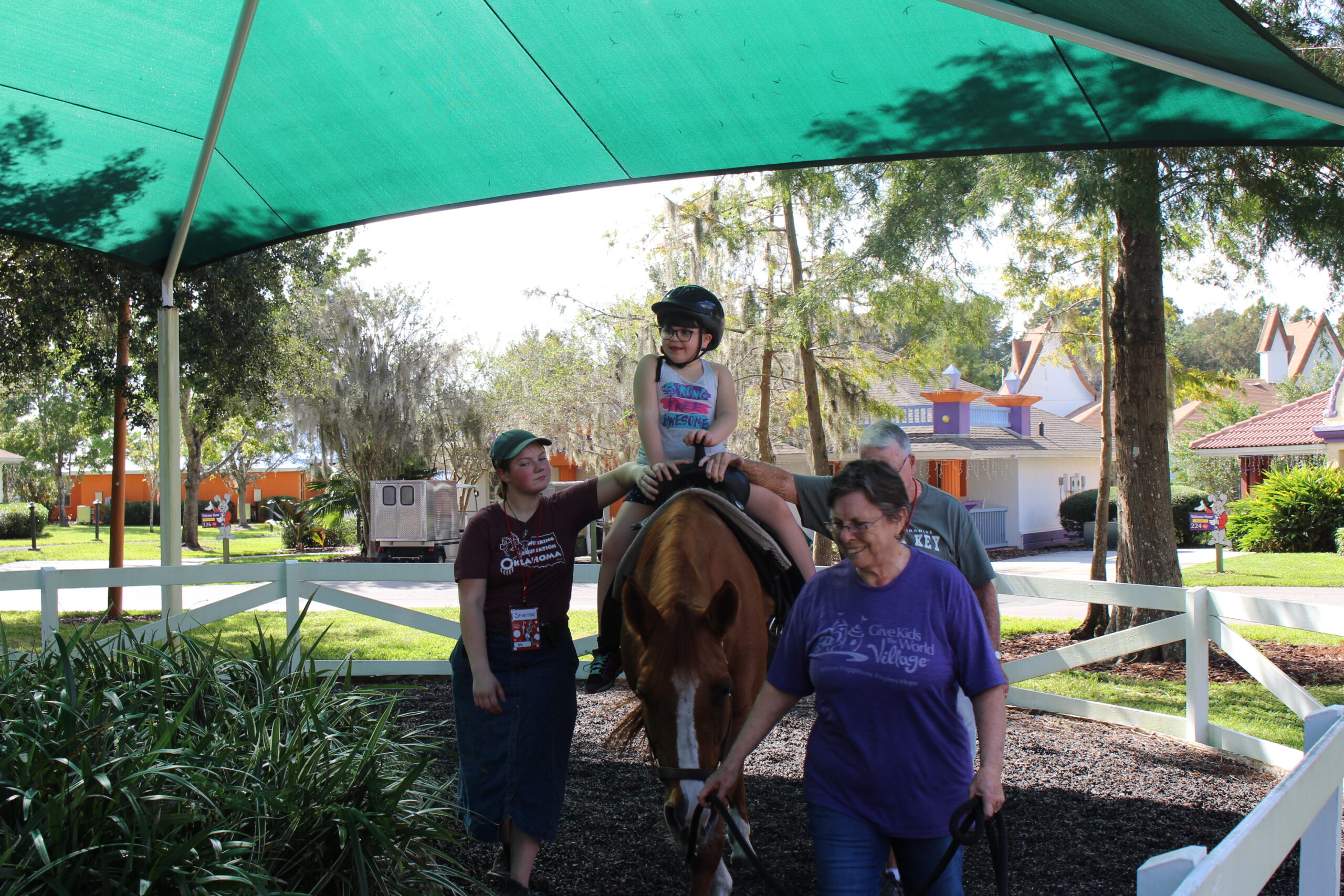 November 2021 Agent of the Month: A-1 Pioneer Moving & Storage, Salt Lake City & Roy, Utah
DECEMBER
December is still underway, and we're sure other big things will happen, but for now, we would like to congratulate our very own Todd Emrick, Director, Customer Service and resident Older Adult Move Specialist, who lent his expertise in an interview with the National Association of Move Managers (NASMM) regarding all things older adult and how to move your mom and still be on speaking terms afterward.
Over the years, Todd has been involved with thousands of moves, so he knows what to expect and how to avoid the stressful situations that can crop up when you're helping your older adult parents move. The 29-minute video is the perfect length for when you need a break from your day-to-day stress.
Listen to the How to Move Your Mom podcast today!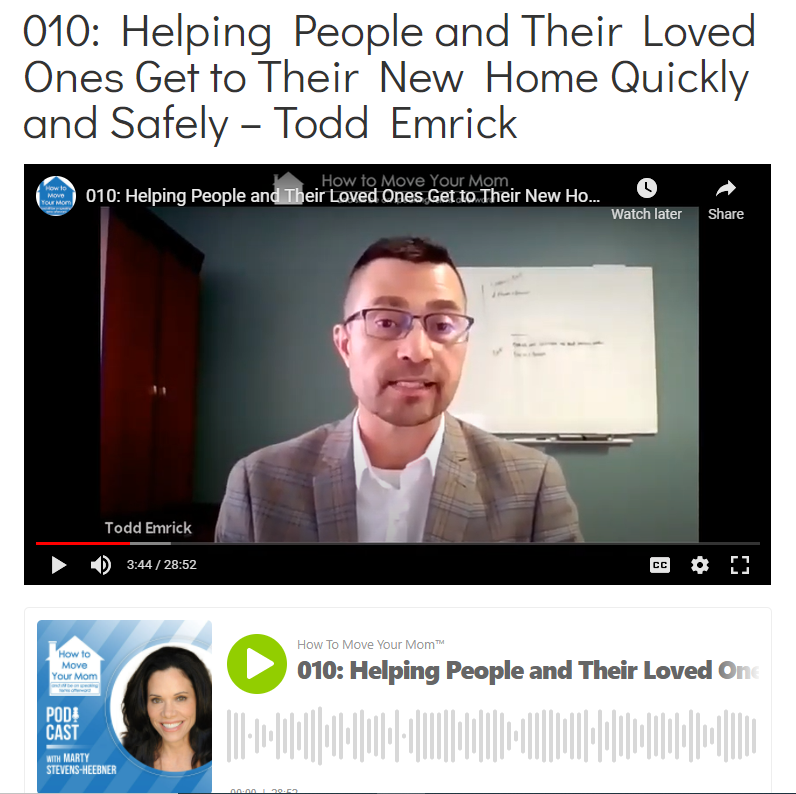 December 2021 Agent of the Month: All Brunswick Van Lines, Inc., Dayton, N.J.