WHEATON WORLD WIDE MOVING PUT IN THE WORK FOR OCT. 6 EVENT
Alongside hosting dozens of interstate agents for Wheaton World Wide Moving's Sales Training on Tuesday and Wednesday and more members of the network for Hauling Bootcamp on Thursday, the Wheaton team had a busy several days in the first week of October promoting and hosting our inaugural Indy Truck Pull, a good-natured competition aiming to raise money for Give Kids The World.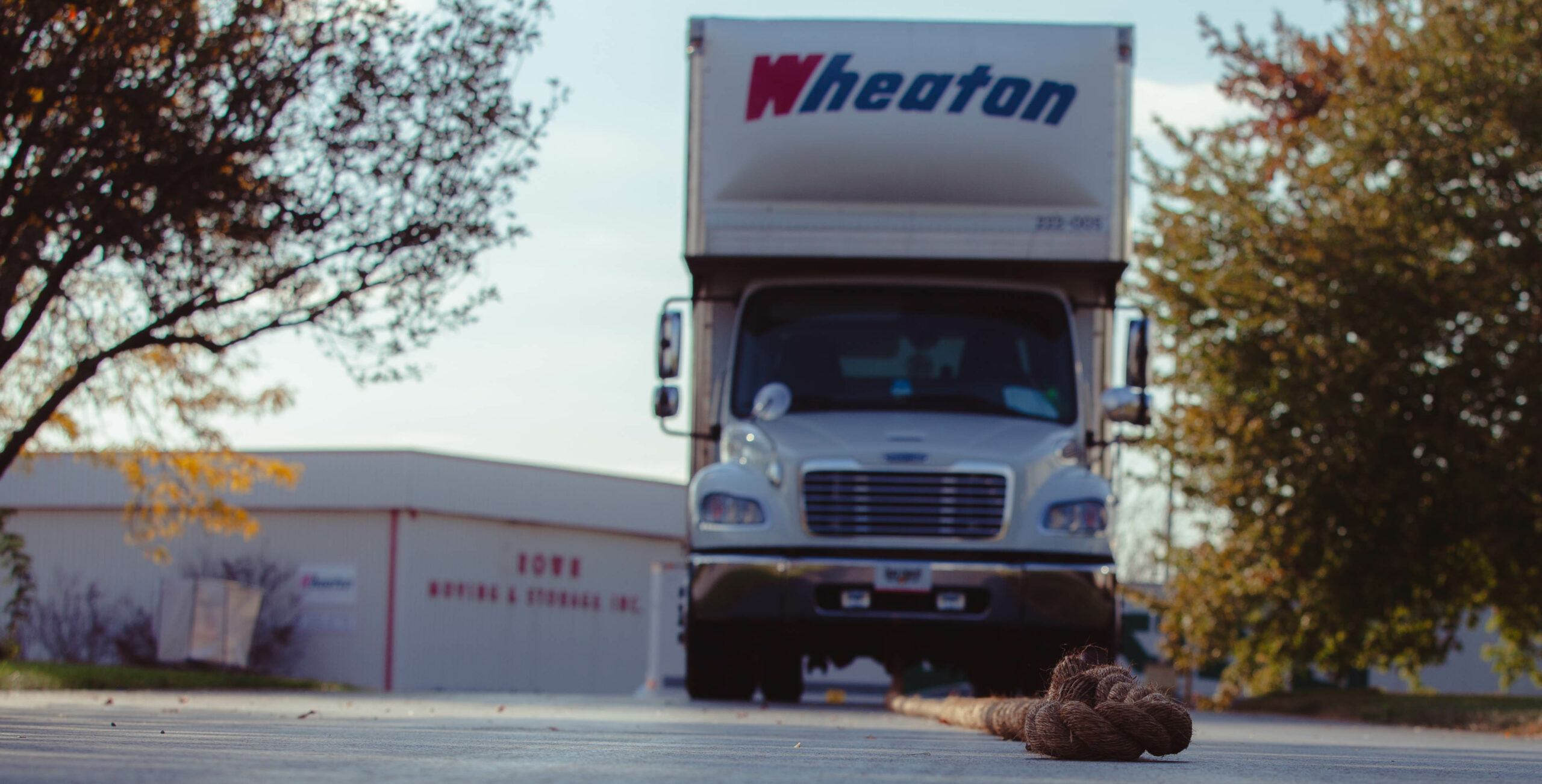 THANK YOU TO CORPORATE SPONSORS
Before we share more photos, video of the morning show truck pull demo, and announce the amount of money raised for GKTW, let us thank the sponsors that got us past our $20,000 goal:
Music Sponsor | OnePoint
Glove Sponsor | Cory Shook – State Farm
T-shirt Sponsor | Michaels Uniform Co.
Scoreboard Sponsor | Gemini Advanced Marketing Services
Goodie Bag Sponsor | Birch, Inc.
Food Truck Sponsors | AMS Relocation, Inc., Marketers For Movers, Marketpro, Inc., and Nationwide Auto Transport
Welcome Tent Sponsor | Palmer Associates
Print Sponsor | Indys Pro Graphix
Screenprinting Sponsor | T&T Promotions
Finish Line Sponsor | MovingLeads.com by First Movers Advantage
Rope Sponsor | N&N Moving Supplies
Registration Tent Sponsor | Exodus Moving & Storage
Game Sponsor | B2E Marketing & EWS Group
Team Sponsors | A-1 Auto, ​​​​​​​Hub International Insurance, H.J. Spier Insurance, The Noll Landscape Group, TTN Fleet Solutions, United Steelworkers, and Victory Packaging
At Large Sponsors | Braden Business Systems, Coast Valley Moving & Storage, Complete Office Supply, DriverReach, SeaCure, Inc., TravelCenters of America
And many donations from generous individuals such as Carole Palazzo, Randy Stannard, and Rex Swing!
INDIANAPOLIS NBC AFFILIATE WTHR FEATURED THE TRUCK PULL ON 13SUNRISE
While the majority of the fundraising occurred on the corporate level, Wheaton needed spectators to cheer on the competing teams and buy dinner at onsite food trucks to help support the nonprofit. That's why part of the effort to raise money for Give Kids The World included garnering publicity such as the Wednesday, Oct. 5 spots during the 4:30 to 7 am morning show on the Indy NBC affiliate.
The station showed several segments:
An interview with Wheaton president A.J. Schneider on who Wheaton is and how the company became connected with GKTW.
Sound bites from Matt Paxton about the van line and PBS partnership.
GKTW alumni family the Ginthers talking about their experience in Central Florida and how much it meant to not only their Wish child Hannah, but also to their other children.
Cheerleading feature! Hannah and a friend performed Truck Pull cheers on camera.
A truck pull demonstration by Matt Paxton and 10 members of the Wheaton | Bekins team: Chris Banguis, Ron Borkowski, Brenda Carter, Kevin Miller, April Milner, Paul Salmon, A.J. Schneider, Jaymie Shook, Justin Swing, and Brett Welch.
GETTING SET UP FOR THE INDY TRUCK PULL
Finally, Thursday evening saw a ton of people joining in to help set up and run the inaugural Indy Truck Pull. Staff set up tables and chairs, popped canopies, put together easels to hold sponsor signs, strung up banners, laid out t-shirts, gloves, and games, and so much more.
Once things were set up and people began to arrive, more volunteers appeared to run the show, and not to be outdone, several members of the team put on their gloves and pulled the truck!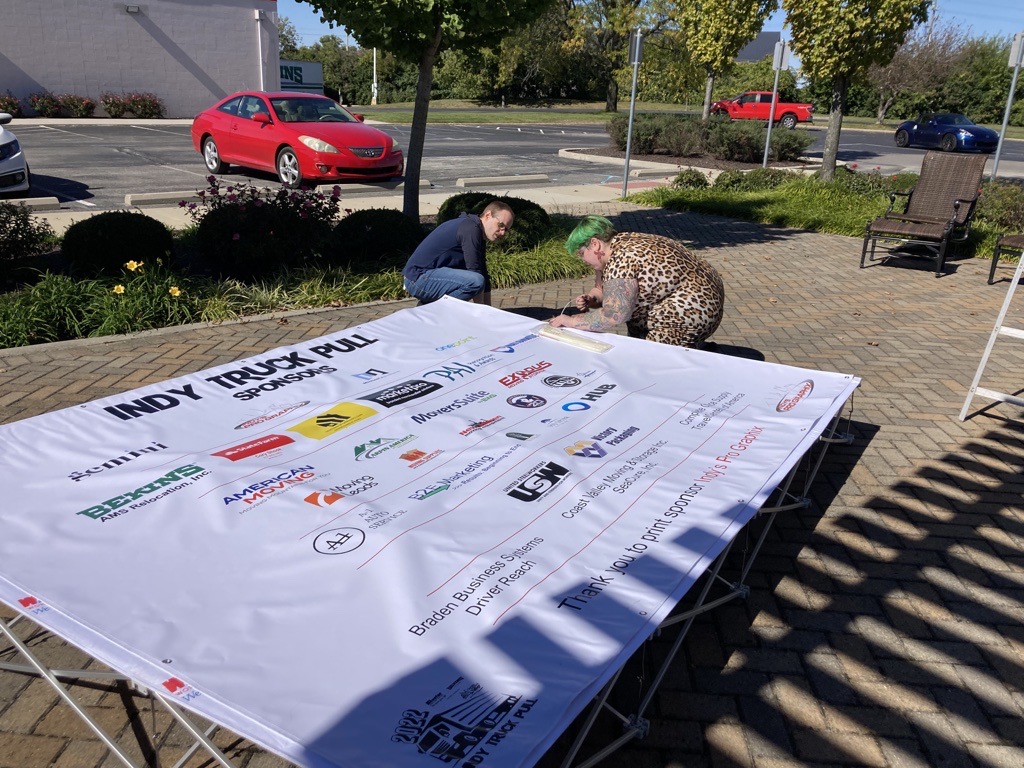 Thank you to all our volunteers and participants:
Eddie Acosta, Mariah Hubbard, Mark Russell, Austin Shaffer & Johnny Shelton of Wheaton Moving & Storage;
Tommy Goodin of Goodin Moving Solutions;
Don Henson of Brandon Moving & Storage;
Joel LeVene & Randy Turner of Turner Moving & Storage;
Carrie Levy of Exodus Moving & Storage;
Paul Newman of AMS Relocation, Inc.;
Jay & Sherry Ocker;
Micayla Rowe of Give Kids The World,
Clair Salyer & Stephanie Tollefson of Gemini Advanced Marketing Solutions;
Lori Shepard & Katie Weissert of Reindeer Auto;
Josh & Marrissa Tracy of Yolo Transfer;
Chris Banguis, Mike Battreall, Ron Borkowski, Todd Emrick, Kyle Fetterman, Matt Gore, Myranda Gourley, Krista Helm, Chelsea Hugunin, Mike Lowder, April Milner, Kyle Patz, Marci Poynter, Laura Pung, David Raney, Doug Robinson, Paul Salmon, A.J. Schneider, Johnny Shelton, Jaymie Shook, Justin Swing, Brett Welch, Hollis Williams, Ron Williams, and Roger Wise of Wheaton World Wide Moving.
PULL THAT TRUCK
Nine teams of ten donned work gloves and yanked the truck 100 feet across the finish line, with Morse Moving & Storage and Cory Shook – State Farm coming out as the top two. In the Championship round, the moving team outpaced the insurance team by almost two seconds. Very impressive!
Thank you to team sponsors:
Wheaton World Wide Moving staff
Morse Moving & Storage* 2022 Indy Truck Pull Champions!
Win Daily (Kustom Disaster Restoration)
Cory Shook – State Farm* 2022 Indy Truck Pull Runner Up!
TTN Fleet Solutions, who traveled all the way to Indiana from Texas!
Hauling Bootcamp, consisting of moving company representatives from all over the country
HJ Spier Insurance
Indy Pickleball Club
TOTAL AMOUNT RAISED FOR GKTW THROUGH THE INDY TRUCK PULL
We surpassed our goal for the nonprofit! Couldn't have done it without our sponsors, participants, and volunteers. Visit https://give.gktw.org/keatonskorral to donate toward the great work GKTW does for children and families. Email wheatonmarketing@wvlcorp.com if you'd like information about our upcoming 2023 Indy Truck Pull.