The end of the year is the perfect time to reflect on what you want to accomplish the following year, or even better, to see what you manifested in the year ending.
At Wheaton, we strive to be the best mover for our customers day in and day out, but we do a lot of other things as well. From our inaugural Indy Truck Pull, to retiring staff members, celebrations and beyond, Wheaton is not only a moving company, but a community partner as well.
Let's dive into 2022 and all the cool things we did together.

JANUARY
Wheaton World Wide Moving is a proud supporter of Legacy List with Matt Paxton on Public Television, and we were thrilled to present early screenings of the first episode of Season 3 in January.
On January 14th, our corporate headquarters in Indianapolis, Ind., hosted local public television members at our office so they could watch the episode early and hear behind-the-scenes tidbits from the host himself, Matt Paxton.
The following week, we traveled to Cummings Moving Company, our interstate agent in South San Francisco, where the company hosted fellow Wheaton agents, real estate agents, and special guests to screen the first episode with Legacy List cast member Mike Kelleher, who told attendees all about shooting the episode and shared stories that didn't make the final cut for the show.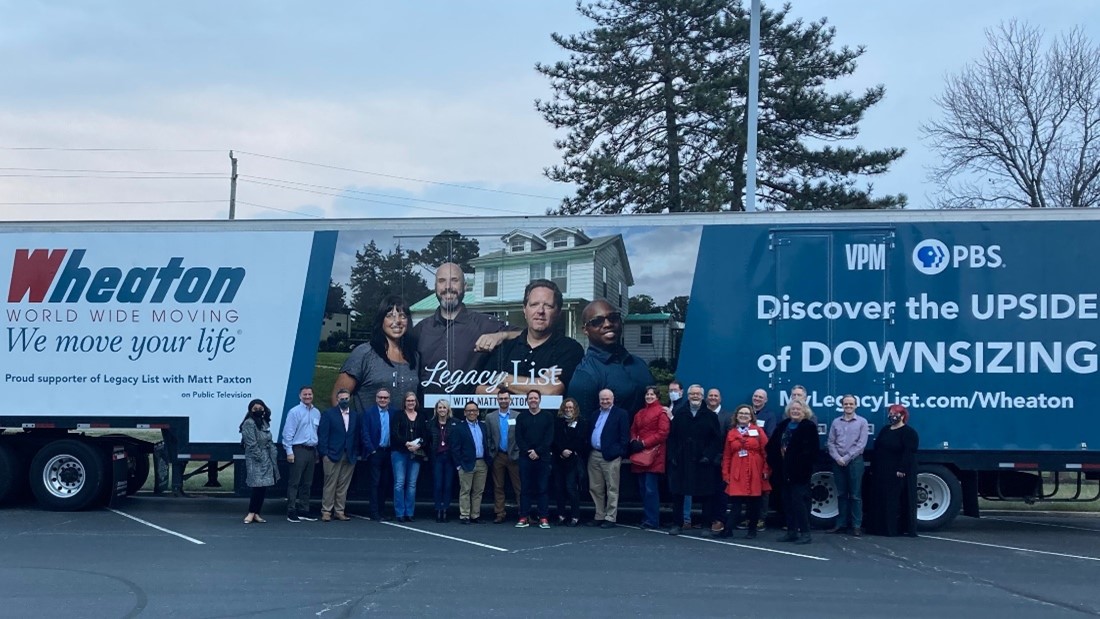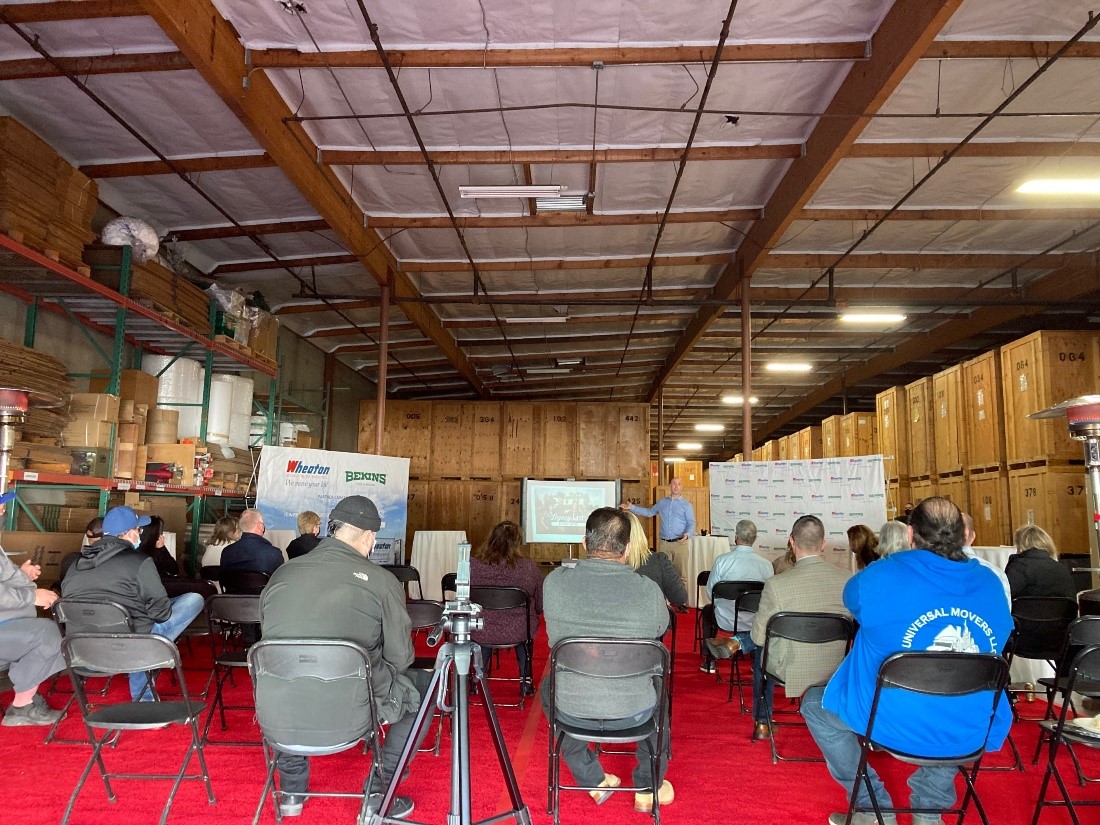 Jan. AOM: Lake Country Moving & Storage, Waterloo, N.Y.
Jan. DOM: Harvey King, Wheaton Moving & Storage
FEBRUARY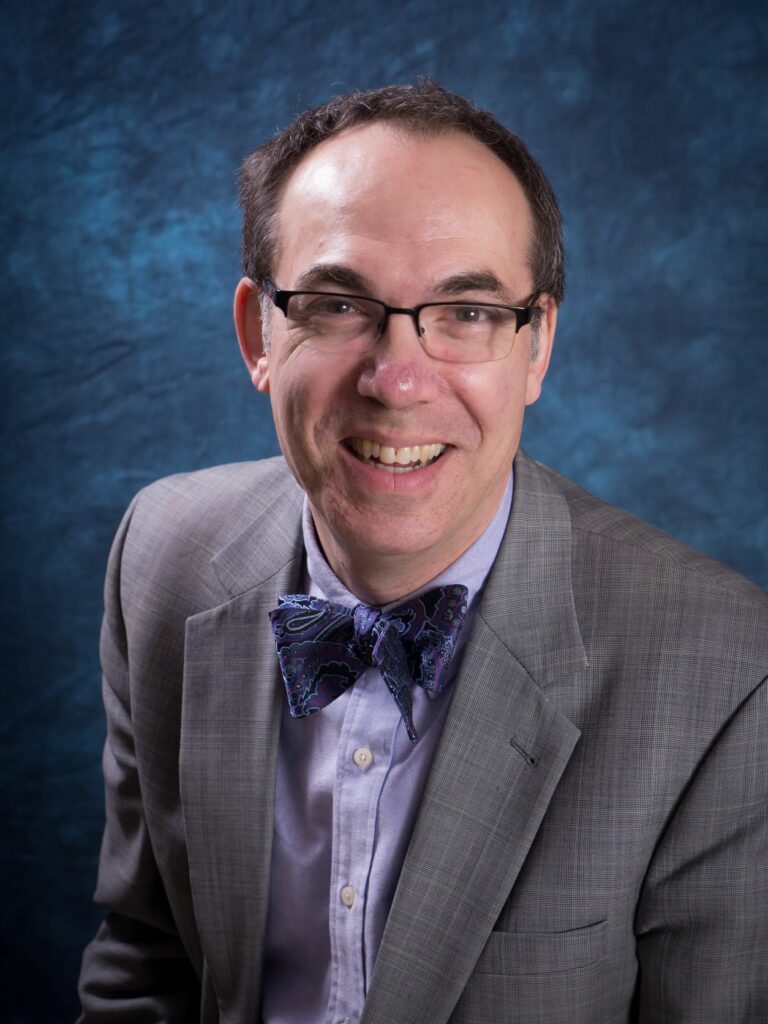 Our annual Van Line Summit & Awards Gala took place at the end of February, with more than 165 agent representatives in attendance. This event is a chance for agents, drivers and corporate staff to get together, learn from one another, network and receive recognition for their hard work and dedication to excellence.
One of the favorite sessions from the event was Dr. Elliot Eisenberg's presentation on what to expect in the economy during 2022. His humor and in-depth knowledge kept attendees engaged and learning. With his 13+ years of experience as senior economist at the National Association of Home Builders, the Bowtie Economist gave great insight into the trucking industry and how other industries affect our day to day.
Feb. AOM: Courtesy Moving & Storage, Fresno, Calif.
MARCH
Each year, in March, we celebrate Women's History Month. This year was no different; however, this time around, we focused on the femmes that make moves happen from behind the scenes. Corporate for a van line, especially Wheaton, has many moving parts. Recap the experience and meet just a few of the women that make Wheaton the quality van line it is.
March AOM: Exodus Moving & Storage, Inc., Johnstown, Colo.
March DOM: Michael Coble, Lake Country Moving & Storage | Kenneth Corbeil, Moving Relocation Specialist
APRIL
They say April showers bring May flowers… but what flowers would exist if we didn't recycle?

Wheaton loves the three "r" words – reduce, reuse, recycle. That's why we encourage customers to re-use boxes when they're able and to think about using things such as pillows and towels to pack boxes, when packing their items themselves.
This year, we covered some of the ways Wheaton likes to stay green. Check out the blog on ways you can stay green during your move.
April AOM: Breda Moving Co., Inc., Roselle, Ill.
April DOM: Delroy Kennedy, Direct Lease Driver
MAY
May is National Moving Month. This year, we focused on celebrating team members from Wheaton's 2021 Agent of the Year with videos highlighting key employees from Olympia Moving & Storage, an interstate agent for Wheaton with locations in Maryland, Massachusetts, New Jersey and Texas.
Applause goes out to the entire team, including leadership, drivers, move coordinators and everyone else involved in every aspect of the moving process!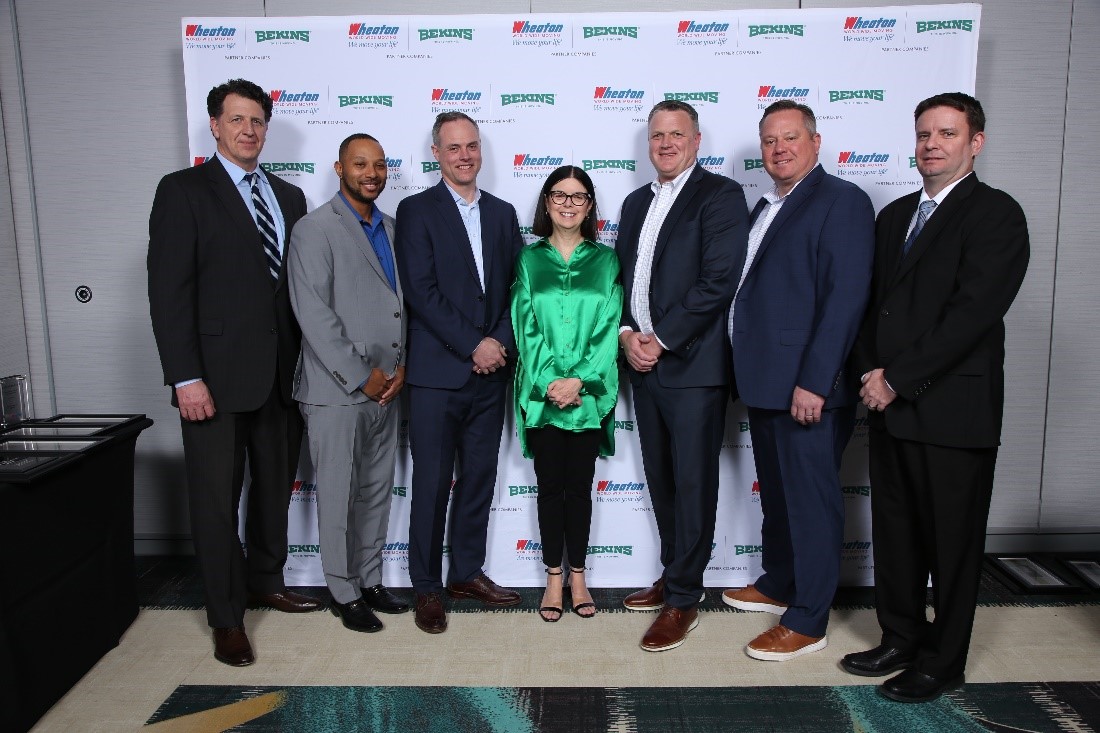 May AOM: Heritage 21st Century Movers, Carson City, Calif.
May DOM: Anthony Beauchamp, Wheaton Moving & Storage | Pedro Castillo, Turner Moving & Storage
JUNE
Summer is always a busy time, as families wanting to move try to do it before the new school year begins. Each year, we lean on seasonal employees to help with the heavy lifting and extra workloads.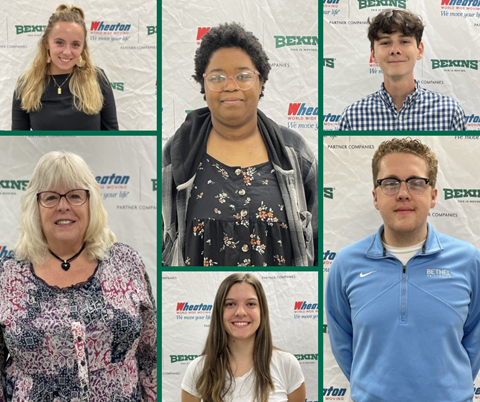 This year we welcomed five seasonal employees and one summer intern at the corporate office. Each shared their skillsets through various departments such as marketing, accounting and facilities. We always appreciate the different perspective seasonal help brings to our ever-growing business. Often, seasonal employees eventually become full-time Wheaton staff, so we're always looking to cultivate talent!
June AOM: Turner Moving & Storage, Napa, Calif.
June DOM: Steve Bennington, Rainbow Moving & Storage | Calin Moldovan, Olympia Moving & Storage
JULY
As you might have gathered, summertime is B U S Y for the moving and trucking industry. With hundreds, sometimes even thousands of people moving, our employees have their work cut out for them. In July, we unloaded roughly 635 truckloads. With some trucks taking multiple days to load and / or unload and dispersed throughout the country, this number is impressive!
July AOM: Preferred Movers of TN, Inc., Crossville, Tenn.
July DOM: Marc Bailey, Wheaton Moving & Storage
AUGUST
August means back to school! This means universities and other education entities are hiring and relocating new employees. Our van line is proud to partner with several universities, colleges and educational centers, providing them with smooth moves across the country, no matter where they're headed.
Located in the heart of Hoosier country, our staff loves supporting the university just down the road.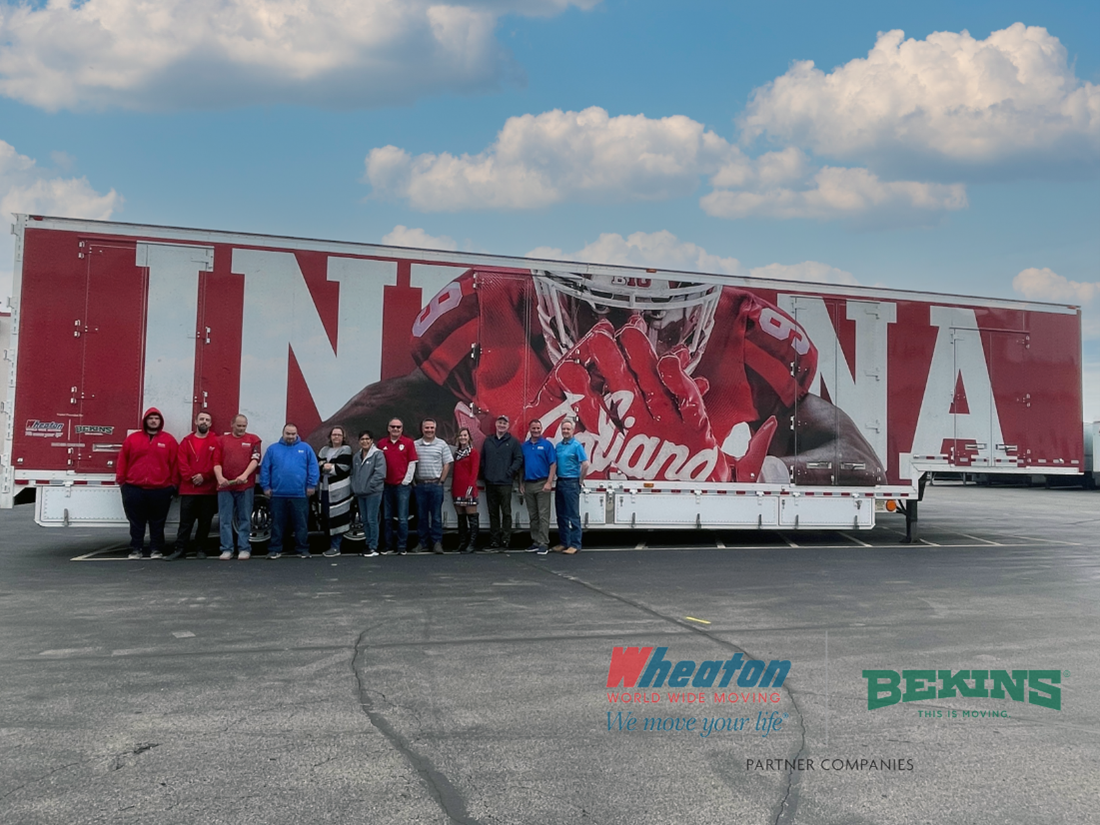 Aug. AOM: Daly Movers, Inc., Garden Grove, Calif.
Aug. DOM: Zsolt Baricz, Olympia Moving & Storage | Kavin Bell, Goodin Moving Solutions | James Dunton, Wheaton Moving & Storage | Richard Senones, Willie's Transfer & Storage
SEPTEMBER
September brings Driver Appreciation Week.
Drivers are the backbone of our organization. They not only drive goods but also direct the loading and unloading of every truck. Each month we name drivers of the month who are then eligible for Driver of the Year.
Throughout the month, we shared videos of each DOY from 2021 across our van line network and highlighted them on social media. From why they drive for Wheaton to ways to save money, they spilled all the beans.
Check out an example here.
Our team at headquarters works closely with drivers in our network across the country to keep you moving. With our longtime VP Operations Ron Borkowski retiring at the end of the year, we searched long and hard for someone to continue his legacy. In September, we welcomed Kevin Miller to the Wheaton team as our incoming VP Operations.
Sept. AOM: Wheaton Moving & Storage, Indianapolis, Ind.
Sept. DOM: William Labore, Direct Lease Driver
OCTOBER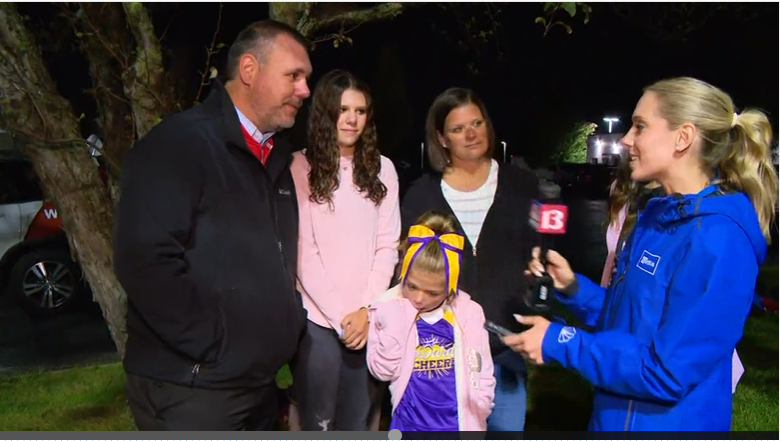 October was a huge month. With our Hauling Bootcamp, Sales Training Summit and, of course, our Inaugural Indy Truck Pull, the month was stacked with events, van line rapport and education. Of course, while there were educational moments, there was fun to be had.
Check out the action from our Truck Pull to relive just one of the experiences from this month.
Oct. AOM: Wm. Meyers Movers, Itasca, Ill.
Oct. DOM: Robert Krumpols, Preferred Movers of TN | Ed Sopko, Olympia Moving & Storage
NOVEMBER
As the weather gets colder, we realize what we're grateful for. And in those months of allergies, colds and flus, our health is one of those things. Unfortunately, not everyone is blessed with good health, which is why we partner with Give Kids The World. This nonprofit based in Kissimmee, Fla., grants wishes to children with critical illnesses across the nation, year-round, giving them (and their family) the vacation of their dreams.
Each year for Giving Tuesday (the Tuesday following Thanksgiving), we help raise funds for their cause. This year we raised more than $9,000 with a corporate match making the total more than $18,000! That makes a huge difference in several children's lives and provides support not only for the village, but also for the Wheaton sponsored attraction, Keaton's Korral.
Did you miss out on donating this year? Donate through the portal today!
Nov. AOM: Merchants Moving & Storage
Nov. DOM: Joseph Estrada, Olympic Moving & Storage | Scott Knight, White Knight Transport Services
DECEMBER
While December is ending, we have a lot to celebrate. Not only did we have an impactful year in the community and the moving and trucking industry, but we have several corporate employees seeking retirement at the start of 2023. We'd like to take the time to recognize them.
Included in the list of retirees are:
Ron Borkowski | VP, Operations
Karen Carson | Manager, Customer Service
Marsha Davis | VP, Revenue Accounting
Rob Weissert | Accounts Receivable Coordinator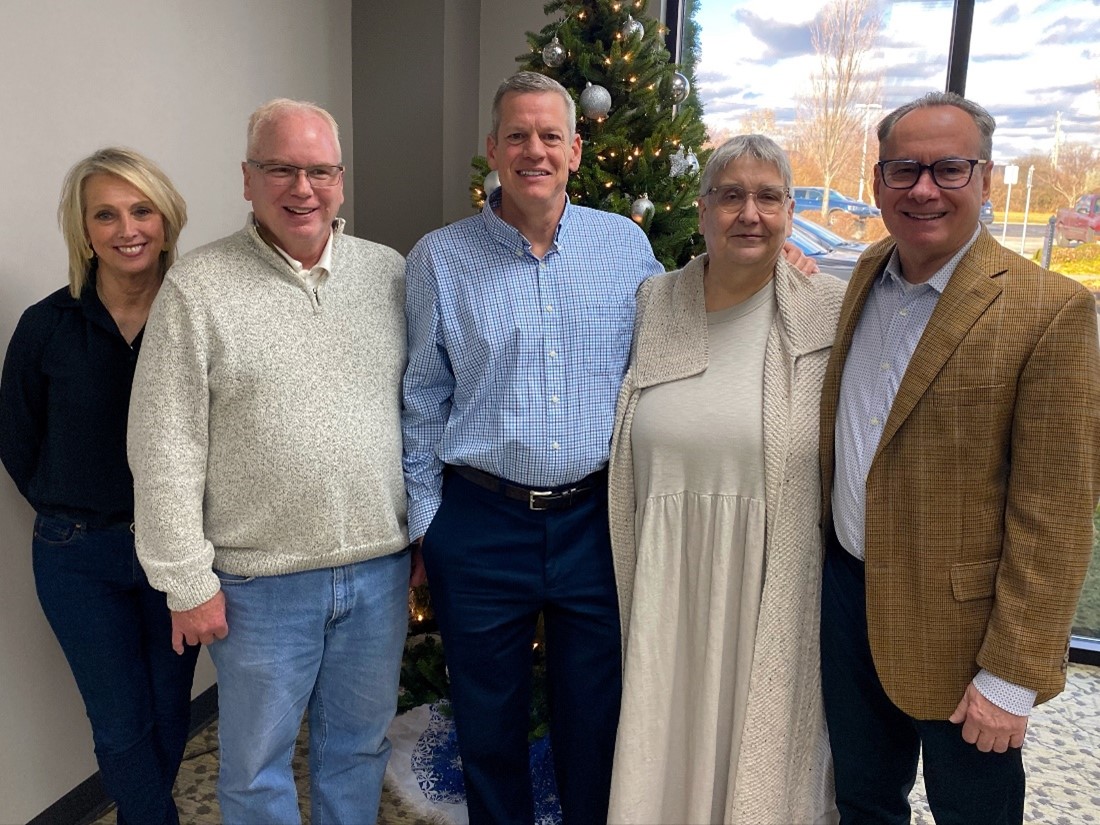 Wheaton is grateful for every customer, employee, driver and agent that helps make moves happen. Without people like you, we wouldn't be able to do what we love day in, and day out. We're only moving forward at this point and looking at opportunities for 2023. This includes what we can do for our customers and our community. While the new year is coming up quickly, we're thankful we could recap 2022 with you.
We're wishing you and yours a safe holiday season and prosperous new year.