Moving Services in Irvine, CA
Where can I find moving and storage services in Irvine, CA?
Safe-Way has been a family-owned and -operated company providing quality and effective moving services since 2007. We are full-service, so your move includes our specially equipped trucks, packing and moving supplies, our trained professional movers to safely load and unload your belongings and all the necessary padding and protection to guard your property.
Working with us, an interstate agent of Wheaton World Wide, you can rest assured Safe-Way Moving & Storage has your back. Your items are in the reliable and capable hands of our experienced & professional movers and packers.
Visit us on Facebook, Twitter and TikTok!
How do I get started with Safe Way Moving and Storage Inc. for my next move?
If you are planning a local or long distance interstate move in California or out of state, look no further than the professional movers at Safe-Way Moving & Storage! We provide both residential and commercial moves. If you're looking for expertise, authoritativeness and trustworthiness, choose your friendly, neighborhood movers in Orange County!
Our goal is your satisfaction – we want to offer as many or as few services as you may need, in a way that works with your budget.
We pride ourselves on our attention to detail and will always go the extra mile to ensure your items are protected before, during and after your moving process. Additionally, our storage options offer the same guaranteed protection, so you can rest easy knowing your items are being stored safely and securely in our two state of the art warehouses, located in Irvine and Foothill Ranch, Calif.
Get in touch with Safe-Way Moving and Storage, Inc. to get started. We look forward to providing you with a positive moving experience from start to finish!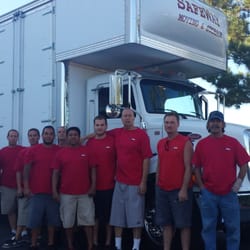 Moving Out-of-State?
Get a ballpark estimate for your move
Your move appears to be within the same state and we cannot provide an estimate.
Would you like to Find a local agent instead?
X