Green space, peace and quiet, a slower pace of life—the suburban life offers many compelling advantages. On one hand, cities often have big attractions like city museums, restaurants and theaters you may miss. However, depending on your lifestyle and priorities, living in the suburbs may ultimately prove better for you and your family.
From having parks and yards to excellent schools to low crime rates, there are plenty of reasons to move to the suburbs. What factors are most important to your decision? Keep reading our list as you weigh the pros and cons of the suburbs.
What is "Suburban Living?"
Living in the suburbs means you are located outside a major city but still within commuting distance. Maybe you work in the city or spend time in the city on the weekends, but your living situation keeps you outside of the hustle and bustle. Suburbs commonly have plenty of single-family homes, local parks and much less traffic than you'll find in the city.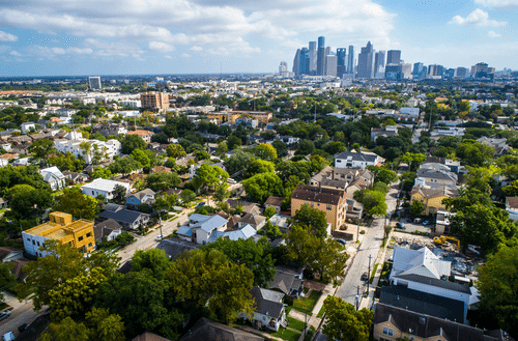 What are the Advantages of Living in the Suburbs?
Why do people move to the suburbs? It may not be for everyone, but here are six of the biggest perks of moving out of the city:

1. YOU GET MORE SPACE FOR LESS COST
One of the primary advantages of living in the burbs versus the cities is that homes are usually more spacious. Whereas the city has plenty of apartment buildings and condos, suburban areas mostly consist of single-family homes.
This means that in addition to more living space, walk-in closets, more bedrooms and more bathrooms, you'll also get a yard for your pets and kids to play in! Plus, even with bigger homes, the cost of living in the suburbs tends to be less than in the cities. When you want to make your dollar go further, the suburbs deliver.
2. IT'S EASIER TO CONNECT WITH NEIGHBORS
According to a Pew Research study, residents in rural and suburban areas are more likely to know and trust their neighbors.
There are many ways to meet people no matter where you live. However, it can be much easier to connect with your neighbors and become friends with them when you live in the suburbs. From neighborhood parties to simply knocking on your neighbor's door to PTA meetings, making friends in the suburbs is often safe, simple and convenient.
3. SUBURBAN SCHOOLS ARE BETTER FUNDED
In densely populated areas, like big cities, teachers frequently face overcrowded classrooms without the necessary resources. The overall population of suburbs is often lower than in the city, but residents pay more in property taxes. This leads to less crowded public schools with a lower student-to-teacher ratio. Your children benefit through individual instruction and stronger personal relationships with their teachers.
4. LESS CRIME
Safety is a primary concern, especially for parents. This means that low crime rates are usually one of the first statistics families look for when deciding where to live. On average, suburbs feature less crime than their big city counterparts.
A 2018 Urban and Rural Victimization report highlights the wide differences in crime statistics depending on geography.
5. THE SUBURBS ARE MORE "CONVENIENT"
These days, you can find many of the amenities found in metropolitan areas in the suburbs. Restaurants and special attractions, for example, can commonly be found in small towns—or, with the suburb's proximity to the city, you can easily get there from your neighborhood!
Additionally, parking is much less of a hassle when you live in the suburbs. Whether it's just parking at your home or at work, there's usually a parking lot (with open spots), a driveway or easy street parking available. This is not the case in the city.
Sure, cities have a reputation of being more convenient for those traveling via foot or bike. However, the idea of a "15-minute city" has its cons as well, particularly if you're trying to commute with your own vehicle. Not only will you have a hard time finding a place to park in a 15-minute city, but these cities have shown to encourage a lack of diversity and mixing of communities.
6. PEACE AND QUIET
Buses, trucks, ambulances and airplane traffic are constant in the city. Even at night it can be hard to hear the crickets without an exhaust pipe chiming in.
The suburbs offer a quieter environment that can be more appealing to bird watchers, introverts and people with sleep issues. Less traffic and less congestion means fewer headaches.
Planning a Move to the Suburbs?
The list above outlines just a few reasons to move to the suburbs; you're sure to discover more as you explore suburban neighborhoods.
So, if you're ready to leave the city behind, it's time to contact Wheaton World Wide. Our local household and suburban movers make moving anywhere easy. Let us help you pack up and deliver all your possessions to that perfect new home. Get in touch with Wheaton World Wide today!