Wheaton Expert Piano Movers
Professional Piano Moving You Can Count On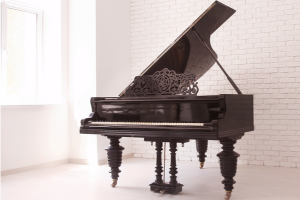 Your local Wheaton agents are proud to offer expert piano moving company services whenever you need us. When you call Wheaton for piano moving, we arrive quickly, figure out how to move your piano safely, and get it where it's going without missing a beat. Guaranteed.
Why do I need to hire professional piano movers?
Pianos are heavy and cumbersome, but they're also delicate. It's difficult to navigate a piano through living spaces without bumping against walls and floors. All that bumping could seriously damage the instrument. Professionals help make sure your piano isn't damaged and doesn't damage anything else during your move.
How do you move a piano?
First, Wheaton's team looks at factors like what kind of piano you have and where it's located inside your home to determine the best route for removing it. Once we have our plan, we'll prepare the piano, dissembling as necessary and securing the rest using padded tarps, straps and other protective material. We'll also lay walkboards on your floors and pads on your walls to prevent jostling damage.
Whenever possible, the team moves the piano by strapping it onto a dolly to minimize the possibility of dropping it. When we've reached the moving vehicle, we'll strap the piano down and insulate it to prevent other items from bumping it during transportation. Then, we arrive at your destination and repeat the loading steps in reverse to place your piano in your new space. Moving a piano safely requires an experienced team to coordinate every step of the way. Wheaton is that team.
Can you move any kind of piano?
Yes! Our piano transport experts have experience moving vertical pianos, console pianos, upright pianos, baby grand pianos, full-size grand pianos and virtually every other variety of piano in virtually any kind of living space. If you need to move a piano from one space to another, Wheaton can help.
Why should I choose Wheaton for piano moving?
In our 75 years in the moving business, Wheaton has focused on one goal: making our customers' moves as stress-free as possible. When you choose us for piano moving, we work out all the logistical details so you don't have to. Just get in touch, and we'll move your piano safely to where you want it to go.
What is the next step?
If you have more questions or want help moving your piano now, get in touch with your local Wheaton agent. We'll ask you a couple of questions about your piano and move, assign you the right team and schedule things out. We look forward to making your piano moving stress-free!