Moving can be complicated and expensive… and if you don't plan ahead, your expenses can skyrocket! But don't fret: the relocation experts at Wheaton World Wide Moving have compiled a few tips on moving budget best practices:
How to Put Together a Moving Budget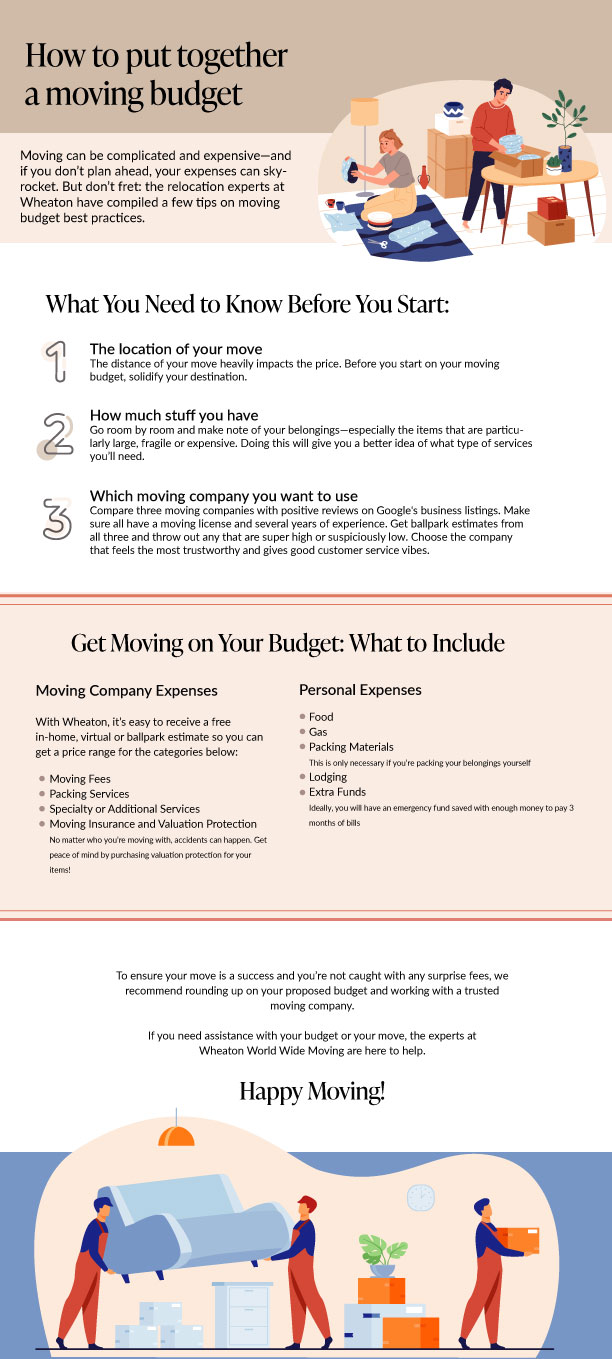 What You Need to Know Before You Start Creating Your Moving Budget:
1. The Location of Your Move
The distance of your move heavily impacts the price. Before you start on your moving budget, solidify your destination.
2. How Much Stuff You Have
Go room by room and make note of your belongings—especially items that are particularly large, fragile, or expensive. This'll give you a better idea of what type of moving services you'll need.
3. Which Moving Company You Want to Use
Compare three moving companies with positive reviews on Google's business listings. Make sure all have a moving license and several years of experience. Request an in-home moving estimate and throw out any that are super high or suspiciously low. Choose the company that feels the most trustworthy and gives good customer service vibes.
Get Moving on Your Budget: What to Include
Moving Company Expenses:
With Wheaton, it's easy to request an in-home moving estimate so you can get a price range for the categories below:
Moving Fees
Packing Services
Specialty or Additional Services
Moving Insurance or Valuation Protection
Personal Expenses:
Food
Gas
Packing Materials
Lodging
Extra Funds
Do You Have Questions About Your Moving Budget?
If you have more questions about how to create a moving budget, you're ready to get started with your relocation, or you're interested in learning more about our services, get in touch with Wheaton today! We are passionate about providing you with a hassle-free move while sticking to your budget.